Gia Geguchadze: "Zestafoni" Does not Lack Fighting Mood".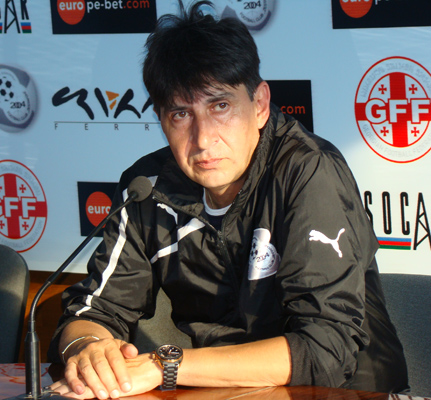 Football club "Zestafoni" starts participation in Europa League from the second round. The Georgian club will play "Spartak" Trnava of Slovakia.
A day before the match the both clubs held practices and press conferences at "Davit Abashidze". "Zestafoni" held the practice at 19:00. Before it Gia Geguchadze, head coach of "Zestafoni", met journalists.
Gia Geguchadze: "The club is in a fighting mood. All players of the club are ready for tomorrow's match. It is good that European football is back in Zestafoni. So, we must justify hopes of these people".
- What do you know about your opponent?
- We have information about "Spartak" Trnava. I attended the match of "Spartak" against "Hibernians" of Malta. It is tough to judge with only one match. "Spartak" is a traditional Slovak club. Overall, it is an interesting opponent.
- You have many new players in your team. Was the preparation time enough for the players?
- You will all see that "Zestafoni" will play better football after a month. But it changes nothing now. We must win the match before departing for Slovakia.
- Have you watched the away matches of "Spartak"?
- I cannot say that "Spartak" is so-called home club. We have watched their away matches which ended up in their favor. It is an offensive club. Generally, I like playing against such club.
- Gelashvili was injured. Will he be able to play in tomorrow's match?
- Nika is injured. We will decide this issue tomorrow. Hopefully, Nika will manage to help his club.
- What about Sabanadze?
- I think this football player can play at high level. But first of all, he must believe it. He decided to leave the club and we did not prevent him from doing it.
After the press conference, "Zestafoni" started practicing. The players were divided into two groups. After one-hour practice "Zestafoni" left the field and the Slovaks started practicing.
The match between "Zestafoni" and "Spartak" will be held at the Davit Abashidze stadium on July 17. It will start at 20:00