Rene Ferreira - a Brazilian from "Zestafoni".
The Georgians and the Brazilians, both like spending time together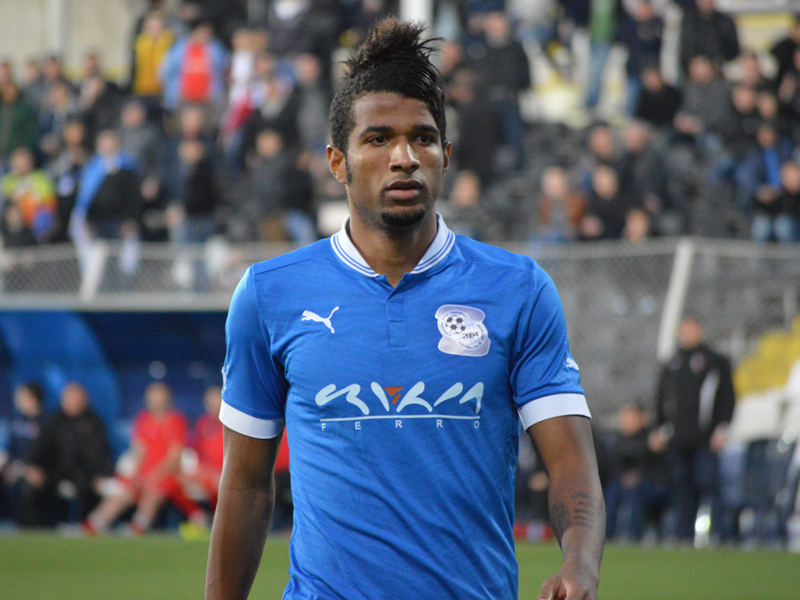 Many think 21-year-old Rene Ferreira of Brazil is one of the best central defenders at the Georgian Championship. In the previous round he became a favorite of "Zestafoni" fans. Rene plays well and has a good technique.
"World Sport" talked to Rene. We took the interview with the help of Beka Kebuladze, interpreter of "Zestafoni".
- You are playing for "Zestafoni" since summer. How did you get used to this place? What do you like and what not?
- Generally, I like Georgia. At first it was tough to get used to this place because it was a new team. There was a language obstacle. Now I got used to the club and I am happy to play for "Zestafoni". We played successfully and won most matches.
- What is the positive side of the Georgian Championship?
- I am satisfied with the preparation of "Zestafoni". As for the championship, everything, including football level, can develop.
- Does "Zestafoni" fit your style? Does it play football you like?
- The Brazilians like offence. I like it too and it is good "Zestafoni" has chosen this course: ball control, offence.
- You are a midfielder but you play as a central defender. Which position is the best for you?
- I have always been in midfield but I like being defender. Now I prefer playing as a central defender.
- You played for "Gremio". Then, you transferred to "Kawasaki" of Japan and after a year you came to "Zestafoni". How did you get in Georgia?
- Scouts noticed me and were invited to Japan where coach was changed and I returned to Brazil. I was in my homeland when the agent informed me about the interest from "Zestafoni". I cannot say I knew a lot about Georgia. But I got interested and searched about it on internet.
- Did you have any other variants besides "Zestafoni"?
- I was told about the French club but I chose the club which fights for the highest goals in its country. The career of the football player is hardly predictable. Today you are here, tomorrow you can be in other club. But I like being in "Zestafoni". Here is a professional environment. The club is developing. Our goal is to be the best in Georgia and to play at European tournaments.
- What is the perspective of "Zestafoni" at European tournaments?
- The playing quality is increasing. I think we will develop with this coaching staff and the football players.            
- Please, summarize the previous match against "Dinamo".
- It was a good match. We had a tough opponent. I think we played better and if not that one moment when Otar Martsvaladze scored goal, everything would have finished in favor of us.
- You have won 7 matches before without been scored a goal. What was the reason of such progress?
- We did not have a good start at the championship but the team started playing differently when a new coaching staff came. We have professional, clever coaches and I am happy with it. They gave the club confidence and perhaps, it was the main factor.
- You played for "Gremio" which is a native club of Ronaldinho. Which famous Brazilian football players have you played with?
- For example, Fabio Rochemback and Andre Lima.
- World Cup is coming up and are you going to attend matches in your homeland?
- I was born and brought up in Salvador. I am lucky that the best group matches of Mundial (Spain-Holland and Germany-Portugal) will take place in my native city. I want to watch these matches from the tribune.
- How do you spend your free time in Georgia? Which is your favorite place?
- Like all Brazilians, I like singing and dancing. I like karaoke. In short, I can have fun here and fortunately, I have very friendly teammates.
- In your opinion, do the Georgians and the Brazilians are mentally similar to each other?
- There is a lot of difference but I found a lot in common. The Georgians, like the Brazilians, like spending time together and noisy places.
- Who is the best central defender in the world?
- Thiago Silva.