Geguchadze Returned to "Zestafoni".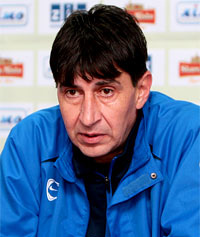 Gia Geguchadze – considered by many people as the best coach of the Georgian Championship returns to "Zestafoni". The club has not officially announced the conclusion of the contract, but it is already known that it is 2-months plus 2-years contract.
On Sunday, "Zestafoni" will host "Sioni" Bolnisi and as Sergo Putkaradze said to "World Sport", interim coaching staff leb by Levan Bajelidze will lead the team yet.
As we found out, Geguchadze will attend the match against "Sioni". So, his second debut as coach of "Zestafoni" will be held on November 10 in a home match against "Dinamo" Tbilisi. It seems symbolic that Geguchadze starts against that team, in which he achieved fame and in 2004 brought it in the group stage of the UEFA Cup.
The leadership and fans of "Zestafoni" believe in Geguchadze. The team was eliminated from the Georgian Cup, is in the 7th place in the Championship and its program-minimum at this points is to get through the six.
Recall, that Geguchadze helped "Zestafoni" to become the Champion of the country in 2011. Under his leadership, the team (by the standards of the Georgian club football) played in the qualifying rounds of the Europa League or Champions League.
Geguchadze made "Zestafoni" and "Torpedo" Kutaisi play typical scheme 4-4-2, where he could not win the title, but made a pretty good team. In general, in the career of Geguchadze often happens such things, when the players became better players as they were before. It is no secret that team coached by Geguchadze are oriented on attacks.
As far as the familiar Contingent meets Geguchadze in "Zestafoni"? He was for 3 years in this club and following apprentices of that time are still in the team: Roin Kvaskhvadze, Kakha Meshveliani, Tornike Grigalashvili, Giorgi Kachkachishvili, Giorgi Chankotadze, Mikheil Sardalishvili, Saba Lomia, Nodar Kiknavelidze.
If we foresee regular play, only Roin Kvaskhvadze is such today, who had constant practice of that time "Zestafoni".