The Minister of Sports of Georgia Levan Kipiani in Zestafoni.
Yesterday the Club's Press-office distributed a letter of Imereti, in which the Club requested the Minister of Sports and Youth Affairs to come to Zestafoni and get acquainted with the situation.
The Minister did not put off the visit and has appointed a meeting at 18.00. And while he and his assistant Akaki Lodia appeared in a crowded Conference Room of the stadium "David Abashidze," an hour and a half late, the main thing was that the dialogue the parties finally took place. The conversation touched on many issues and is very sharp.
Levan Kipiani: "I want to say thanks to all you "Zestafoni" fans, for your dedication to the team. I understand your concerns and will not go off from talking about them.
I have been an extraordinarily good relationship with Ilia Kokaia, who made a very big contribution to the development of the Georgian club football. I have always talked openly with him, but it happened so recently that I find out about the requirements only from the press, which is very disappointing. As a government official, I am always ready to meet with him and to help him in his work.
It is clear that man something has led to such a decision. For me there is no difference, it will burn "Zestafoni". We help everyone equally, but it may not happen immediately. I really want to talk to him, what I am calling but I cannot connect. Kacharava and asked for help, but it is me Khutsishvili not responding.
Gori "Dila" has made a request to participate in the UEFA tournament. Command sponsored the protection service of the Interior Ministry, she had an extraordinary budget. But now the situation has changed. In the case of dissolution "Dila" from UEFA would have followed the harsh sanctions on our football, which is why we went to give the Club benefits.
We do not differentiate between private and municipal teams. We will try to help everyone equally. It takes time and all issues will be sorted out.
 Very soon, a maximum of two weeks, we will table to the public 5-year program of development of football in Georgia, which spelled out details of the next and future steps.
Therefore, on the basis of reality, we must refrain from emotional decision. As Minister, I promise that all problems will be solved. Importantly go right by.
We lived in the anomalous country in which many were afraid to even muster a word. Now another reality. Nobody bothers to tell the truth. Do not let all the counterproductive-you cannot dissolve "Zestafoni". I will care what will be out of football for us as a stab in the back. I have a great desire to meet and talk with him. I see only two ways: weather "Zestafoni" remains the property of Kokaia and gets help from the government,, or the club goes into municipal ownership and we have to take care of his salvation. I support the first option. If you will be communicating with, what we will find out ".
Nugzar Kamushadze (head of municipality of Zestafoni): "For us, What treatment was shock, we really were not prepared for it. We have no way to contain the command. Big budget, however. We are not opposed in principle to the club was owned by municipalities, but this cannot be decided so quickly. And the case should not come to that. Ilia Kokaia made a huge deal to benefit consultant with football and it will be good if he would continue in the future. We will assist in every possible way. "
Akaki Lodia: "as the Ministery, in the next few days we will publish the target program for the development of Georgian football. We will have to go through more than one procedure. Assistance will be provided to all clubs who will play better, get more money. Creation of a new system, new structures are not easy, but with the help of the government, this can be done as soon as possible. "
 Vassil Gvelesiani (Vice President of FC "Zestafoni"): "Ilia Kokaia dedicated a team of 9 years. He started with a clean sheet and "Zestafoni" was twice champion of Georgia. Believe me, this man cannot live without football. If the attitude towards football is, as the Minister was saying, mandatory return Mr. Kokaia in the club. "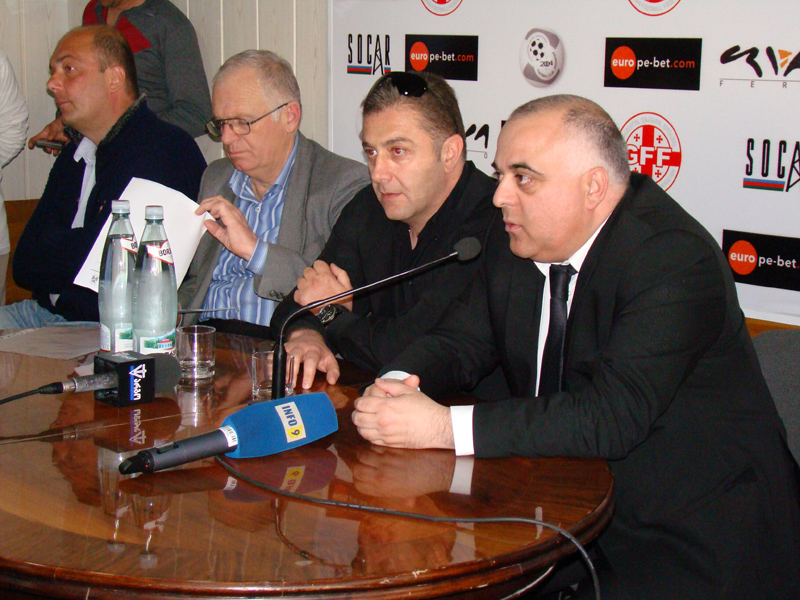 The Minister of Sports of Georgia Levan Kipiani in Zestafoni.