Super Cup of Georgia Again Belongs to "Zestafoni".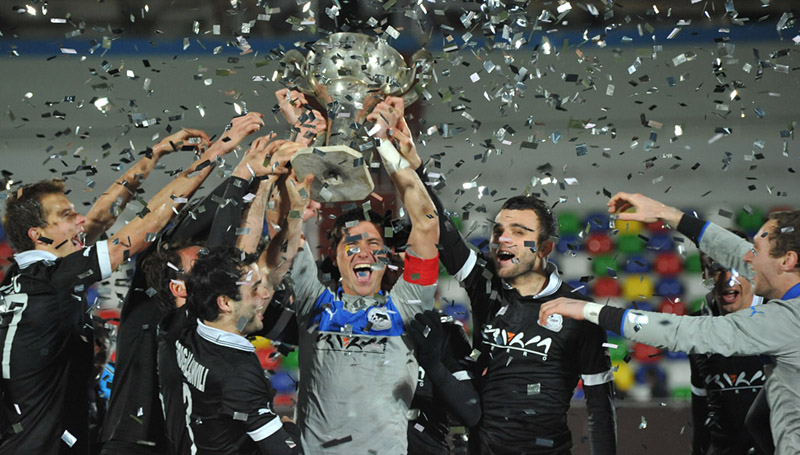 "Zestafoni" won Georgian Super Cup the second time and as a result "Zestafoni" as well as "Ameri" have the same result.  Last year in May, in the Georgian Cup final "Dila" Gori beat "Zestafoni" 4:1 and then in championship they beat them twice with minimal point difference. On Friday in the evening "Zestafoni" took revenge.
The previous day of the match, the coaches of the both teams, Kacharava and Ivanauskas stated that they had equal chances of success and they were true- the match was equal and the match ended with penalty serie. Spring comes, it was the first match of the season and no one expected that there would be a good quality. There were more or less two moments in the first time and both of them from the standard condition. At the 8th minute, Ghonghadze fell down near a penalty area, Benashvili formed a free kick but it could not go through the wall. At the 20th minute, Aladashvili formed a very dangerous free kick, but goalkeeper Kvaskhadze parried it out.

In the second half the match became more active, "Dila" owned a territory superiority, but it did not have any dangerous moments.  At the 66th minute Leonardo Ramos made a good assists to Kakhelashvili who was in the penalty area, but he could not kick. By the way these two players were distinguished in "Dila". In 10 minutes, "Zestafoni" started a contra-attack, Gorgiashvili kicked dangerously, the goalkeeper Shekiladze parried the ball out to a standard kick. Soon "Dila" Gori had two moments: Kvirkvelia kicked from a distance, but Maisuradze did well. In extra time, Boti Demel won a ball in the centre, went towards the goal, he was to stand face to face the goalkeeper, but Gvalia pushed him down and the referee showed him a yellow card.

In extra time nothing special happed, started penalty serie. Dato Kvirkvelia captain of "Dila" Gori kicked it but … could not score. Another player of "Dila" also could not manage to score penaly, Kvaskhadze parried out Brazilian Ramos' kick. "Zestafoni" scored all the penalties. Tornike Gorgiashvili brought a victory to "Zestafoni"- 4:2.

And finally, several details for "portrait": there was more tensified in this match that creation, the field was damaged and the police nearly more than spectators. We saw new-comers in both teams. Oriol Losano  of Spain, Bulgarian Dimitar Petkov and Levan Kutalia in "Zestafoni". Aleksandre Kvsakhadze and Irakli Maisuradze in "Dila" Gori. Mohamed Rekruk of Algeria, who is considered one of the interesting transfers of winter season was in the substitutions.

Valdas Ivanauskas: "first of all, I congratulate "Zestafoni" the victory and winning the prize. Today was spring football. In some episodes we had superiority, but could not manage to score a goal. In spite of this I am satisfied with playing of my team, but we have to work on improving some details. It is matter of time".
Kakha Kacharava: "I would like to congratulate the whole club this victory. They did their best for success. Maybe there was not a good quality, but as far as you know there are a lot of new-commers in the club and we need to adapt each other. To my mind everything will be improved. Both teams could win, but who is lucky he wins in football".
Oriol Losano: "It was a difficult match and I am happy with victory. I have never won any title before"   

Zestafoni – Dila 0:0 (4:2 pen.)
Tbilisi. "Mikheil Meskhi."
Zestafoni: Kvaskhadze, Tornike Grigalashvili, Losano, Kachkachishvili, Ghonghadze, Benashvili (Boti Demel 62), Ielich, Petkov (Babunashvili 106), Gorgiashvili, Aptsiauri (Samushao 80),Kutalia
Head coach: Kakha Kacharava
Dila: Shekiladze, Aladashvili, Kvaskhadze, Tomashvili, Kvirkvelia, Arziani, Gvalia, Maisuradze (Iluridze 96), Kakhelishvili, Ramos, Junior (Modebadze 75)
Head coach : Valdas Ivanauskas
Penalties: Kvirkvelia (could not score) 0:0, Babunashvili 1:0, Gvalia1:1, Ghonghadze 2:1, Modebadze 2:2, Ielich 3:2, Ramos (goalkeeper) 3:2, Gorgiashvili 4:2
Yellow card: Benashvili (38), Ielich (94); Gvalia (90+1)
Referee: Giorgi Vadachkoria.