Before the Super Cup.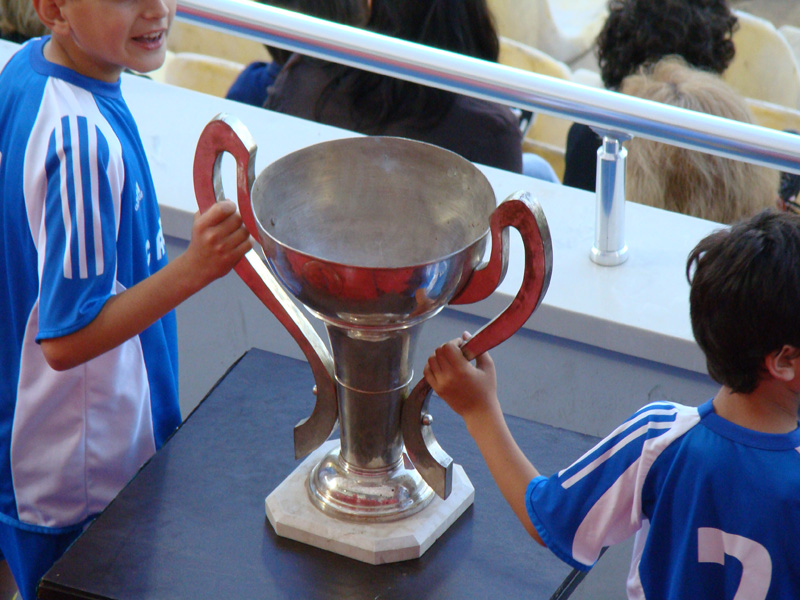 On February 22, at 17:00 o'clock, at "Mikheil Meskhi" officially starts Georgian spring football season. In the Super Cup match "Zestafoni" the champion of the country plays against "Dila". This year is 12th anniversary of this Cup. It starts its history in 1996. Then newspaper "Rezonansi" and GFF decided to share a European experience and make a meeting between the champion of the country and the winner of the Cup before starting the season.  Then I was a sport director of "Rezonansi" and discussions of details with Nodar Akhalkatsi are sweet memories for me now. I remember his words very well: if we follow Europe, we have to have a perfect football season, we have to settle Super Cup in our calendar.
The first one was held in Batumi, in 1996 on July 28 and there were 6 thousands spectators and "Dinamo" Tbilisi beat "Batumi" as a result of goals of Iashvili, Kizilashvili (2) and Tskitishvili – 4:0.
Then there were difficult periods, for example in 2000-04 and in 2011, there was not held Super Cup at all. In the last Super Cup match "Zestafoni" beat "Gagra" 3:1 and now "Zestafoni" will try to win the tournament the second time, as for "Dila" Gori is a debutant club.
"Dinamo" Tbilisi won the tournament the most times (5) (in 1996, 97, 99, 2005 and 2008), "Ameri"Tbilisi 2 times (2006, 07), "Dinamo" Batumi (1998), "Wit-Georgia (2009), "Olimpi" Rustavi (2010) and Zestafoni" (2011) only once. Prof League used to hold this tournament but now GFF holds it. both of the participants of tomorrow's match had meetings in Turkey and they are well prepared.  There are a lot of changes in "Dila" Gori. Giorgi Daraselia the head coach of the team and the leading players of the club: Salukvadze, Khojava, Gogua, Shashiashvili, Croatian Skender left the club. Now the head of the team is Lithuanian specialist Valdas Ivanauskas and these following players joined the club: Zurab Mamaladze (from "Zestafoni'), Lasha Totadze (from "Dinamo" Batumi), Aleksandre Kvaskhadze (from 'Torpedo", Kutaisi), Irakli Maisuradze (from "Metallurgi" Rustavi) and Bachana Arabuli from Saburtalo football school. So, there is a completely new club of "Dila". There are some changes in "Zestafoni" too. Kakha Kacharava is the new coach of the club and there are new players too: Levan Kutalia from "Zugdidi", Romeo Turava goalkeeper from U-17 national team from "Baia" football club. There are legionaries too: Spanish defender Losano Farani, Mohamed Rekruk from Algeria and Bulgarian midfielder Dimitar Petkov.

It is intrigue that in the final match of Georgian Cup "Dila" Gori Beat "Zestafoni" 4:1. So "Zestafoni" must be determined for revenge. On Thursday evening both of the teams had trainings at "Mikheil Meskhi".
The coaches of the clubs held the press-conferences between the trainings.

Kakha  Kacharava: " We were preparing for the season and Super Cup in Turkey. As far as you know, 10 players left the club which became the champion last year. But it also has several new-commers. We will do our best at championship as well as at Cup. I hope that my players will do well in tomorrow's match and to my mind the match will be interesting.
As for the rival, it is a quite mobilized team. There are some changes in the staff, but they added new players too. I wish all the clubs success. it is football and he who will be luckier will win, chances are 50/50."

Valdas Ivanauskas: " In my opinion, everyone missed the new season. A lot of players left us but a lot of came. We had a good meeting in Turkey, but sparring matches and official matches are different. That's why we are looking forwards this match. I think it will be an equal match. We left for Turkey together and  even t-shirts we have the same type (smiles). "Zestafoni" has its style and it is an interesting team"...