"Wit-Georgia" - "Zestafoni".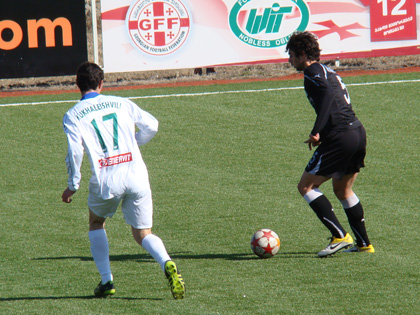 "Zestafoni" - "

Wit-Georgia

" 0-1
.
According to the final results of XXII match, "Wit-Georgia" could not manage to keep place in top 8 teams of national football championship. Two-time champion of Georgian has to fight for keeping place in league.
As head coach of the club Zurab Beridze mentioned it is not fault of regulations of championship, it is their fault.
In this round match "Zestafoni" managed to beat "Wit-Georgia" as a result of Tornike Gorgiashvili's goal. It is newsworthy that since the 33rd round "Wit-Georgia" was playing with 10 players. Giorgi Dzadzamia goalkeeper of "Wit-Georgia" was sent off.

Giorgi Chiabrishvili: "I am very disappointed due to bad quality of playing. It was bad match for us. We have a lot of injured players and we find difficulties in playing on a lawn. Points are not very important for us and we agreed about it in the club and agreed to win all the matches, for proving that we deserve being champions".
Zurab Beridze: "It is fault that we are in such condition. We had to decide early that wanted to stay in top 8. We are disappointed but we will fight again".

Wit-Georgia (Tbilisi) – Zestafoni 0:1 (0:0)
March 8. Mstkheta. "Mtskheta Park".
Wit-Georgia: Dzadzamia, Davit Pirtskhalava, Adamadze (Gogiashvili, 51), Kasradze, Ganiashvili, Guram Gureshidze, Kukhleishvili (Vashakidze, 83), Zakaradze (Rechia, 35), Koripidze, Janelidze ©, Vasadze.
Head coach: Zurab Beridze
Zestafoni: Roin Kvaskhadze, Tornike Grigalashvili, Giorgi Oniani ©, Kobahidze, Eliava, Menteshashvili (Beraia, 78), Goriashvili, Sharikadze, Rajamishvili (Guram Samushia, 58), Mujiri, Tsinamdzgvrishvili.
Head coach: Giorgi Chiabrishvili
Goals: 0:1 Gorgiashvili (77)
Yellow card: Ganiashvili (26),Sharikadze (27), Kvaskhadze (34), Saba Lomia (90+1)
Red card: Dzadzamia (34)
Head coach: Levan Kvaratskhelia