Dvali Returned with Hat Trick.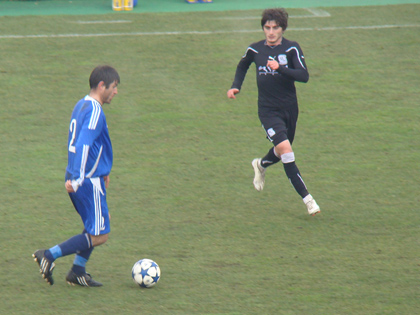 "Zestafoni" - "Spartaki" 5-2 .
"Zestafoni" beat "Spartaki" Tskhinvali 5:2 in the postponed match of XXI round at Georgian national football championship.
Shota Grigalashvili scored goal at the 13th minute. Jaba Dvali returned to the field with hat trick. Host forward scored the first goal at the 19th minute. He scored penalty at the 52nd minute. Levan Melkadze scored penalty at the 57th minute and minimized score. At the 76th minute, Davit Mujiri showed himself – 4:1. Teimuraz Sharashenidze ("Spartaki") scored goal at the 86th minute. Dvali scored his third goal at the 89th minute.
Top scorers:
12 – Jaba Dvali (Zestafoni) (2 pen.),
10 - Xisco (Dinamo);
9 - Dimitri Tatanashvili (Metallurg) (1 pen.);
7 – Revaz Gotsiridze (Torpedo), Besik Chimakadze (Wit Georgia) (1 pen.), Nikoloz Gelashvili (Zestafoni) (3 pen.);
6 - Giorgi Mantskava (Merani), Munini Tape (Merani);
5 - Alvaro (Dinamo), Shota Grigalashvili (Zestafoni), Giorgi Datunaishvili (Torpedo), Aleksandre Koshkadze (Dinamo), Irakli Modebadze (Metallurg), Levan Sharikadze (Gagra), Davit Chagelashvili (Dila), Coto (Dinamo), 1 pen.), Data Tsitskhvaia (Kolkheti) (1 pen.), Rati Tsinamzgvrishvili (Zestafoni) (1 pen.);
The last round of the second stage will be held on March 6:
Kolkheti - Torpedo, Wit Georgia - Zestafoni, Spartaki - Dila, Gagra - Dinamo, Baia - Merani, Metallurg - Sioni.