"Zestafoni" - "Baia".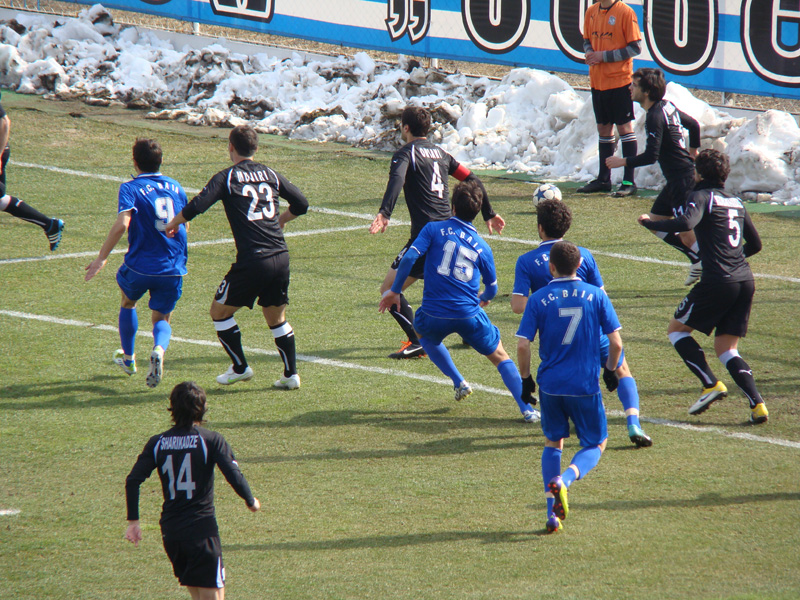 Despite a huge advantage, champion found it difficult to defeat "Baia". If not a good playing of defense and goalkeeper, "Zestafoni" would not have taken 2 "gold" points.
Champion of Georgia earned 3 points in a quite tense match. In the middle of the second half, Giorgi Oniani, captain of "Zestafoni", accidentally shot the ball which touched crossbar and then goalpost. Roin Kvaskhvadze hardly parried the ball.
The goalkeeper of "Zestafoni" saved the team once again. But before that, Shota Grigalashvili took a free kick and scored it. It happened at the 80th minute. After six minutes, one of the "Baia" players kicked the ball but Oniani parried it. Giorgi Gabedava shot the ball again but if not reaction of the goalkeeper, "Baia" would have taken 1 point in Zugdidi.
"Zestafoni" – "Baia" (Zugdidi) 1:0 (0:0)
February 22. Zestafoni, "David Abashidze"
"Zestafoni": Roin Kvaskhvadze, Tornike Grigalashvili, Giorgi Oniani, Kobakhidze, Eliava, Menteshashvili (Samushia, 51), Gorgiashvili, Razhamashvili (Shota Grigalashvili, 43), Sharikadze, Davit Mujiri (Saba Lomia, 67), Tsinamdzgvrishvili.
Head coach: Giorgi Chiaberashvili
"Baia": Somkhishvili, Pachkoria, Tkemaladze, Kutalia, Sikharulia, Kukava, Ekhvaia (Gabedava, 24), Apakidze (Giorgi Kvartskhava, 52), Endeladze (Shota Lomia, 68), Levan Tkebuchava, Levan Akobia.
Head coach: Gocha Tkebuchava
Booked: Levan Tkebuchava (42), Oniani (83)
Goal: 1:0 Shota Grigalashvili (80)
Referees: G. Vadachkoria; G. Kruashvili, K. Tepnadze; I. Urushadze