"Zestafoni" Beats Russian "Krylia" with Penalties.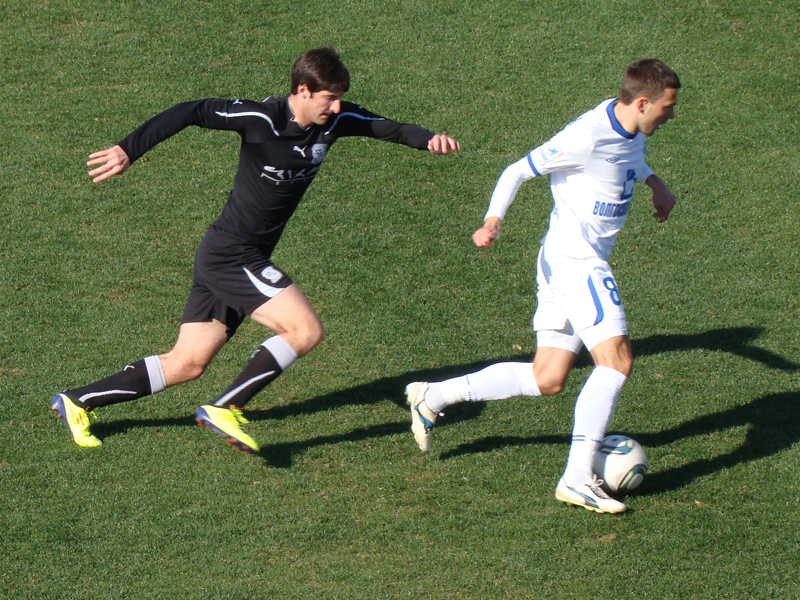 "Krylia Sovetov" - "Zestafoni".
"Zestafoni" started competing at Marbella Cup with winning over "Krylia" of Russian Premier League. 90 minutes finished with 2:2 and in penalty series the match ended up in favor of "Zestafoni" – 4:2. It is newsworthy that Russians had superiority and were winning with 2 goals, but at the 67th minute Rati Tsinamzgvrishvili scored a goal and at the last moment Malkhaz Gagoshidze equalized.

Roin Kvaskhadze goalkeeper of "Zestafoni" saved two penalties (Taranov and Grigoryan) and as for Georgians, all their kicks were exact.

"Krylia" - "Zestafoni" 2:2 (pen. 2:4)
"Zestafoni": Kvaskhadze, Gongadze, Mamuka Kobakhidze, Sajaia (Giorgi Oniani 46), Eliava (Gagoshidze 72), Gorgiashvili, Shota Grigalashvili (Samushia 41), menteshashvili (Mujiri 46), rajamashvili, Samushia (Tornike Grigalashvili 46), Tsinamzgvrishvili.
Goals: 1:0 Taranov (30), 2:0 Apaev (36), 1:2 Tsinamzgvrishvili (67), 2:2 Gagoshidze (90).
Penalties: 0:0 Taranov (goalkeeper), 0:1 Mujiri, 1:1 Vorobiov, 1:2 Tsinamzgvrishvili, 1:2 Grigoryan (goakeeper), 1:3 Gorgiashvili, 2:3 Priomov (goakeeper), 2:4 Sharikadze (2:4).
Davit Mujuri was leader of "Krylia" in 2005-2008 and used his chance against his former club very well.
One more thing: Abiomi Ovonikoko, Giorgi Khidesheli and Goga Beraia have individual trainings. Besides them these following players missed this match : Tornike Aptsiauri, Jaba Dvali, Aleksi Benashvili and Shota Babunashvili, all of them are injured according to the club's information.