"Zestafoni" Lost in Spain again.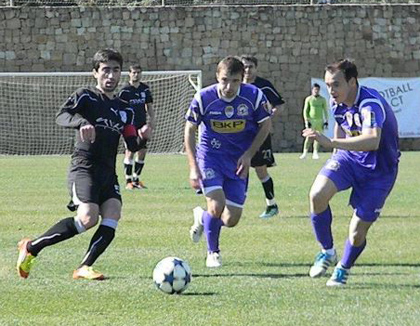 "Zestafoni" - "Poli" .
Pictured by www.politimisoara.com
Champion of Georgia F/C "Zestafoni" held the second match at Marbella Cup. This time, "Politehnica" Timisoara, one of the leaders of Romanian II Division, was the opponent of the team of Giorgi Chiabrishvili. "Zestafoni" lost this sparring too – 0:3.
"Zestafoni" played with the following staff:
I half – Kvaskhvadze; Ghonghadze, Giorgi Oniani, Sajaia, Eliava; Gorgiashvili, Babunashvili, Aptsiauri, Shota Grigalashvili; Tsinamdzgvrishvili, Dvali.
Substitutes: Razhamashvili, Kobakhidze, Sharikadze, Menteshashvili, Samushia, Gagoshidze, Tornike Grigalashvili, Shota Grigalashvili.
"Zestafoni" will hold the last match against Russian "Krylia Sovetov" Samara on February 9. This match will find out the 7th-placed of Marbella Cup 2012. Like Georgians, Russians lost 2 matches at the current tournament. "Dynamo" Kyiv won "Krylia Sovetov" over 2:0 and CSKA Moscow beat the team 1:0.