Champion of Rehearsal of Super Cup.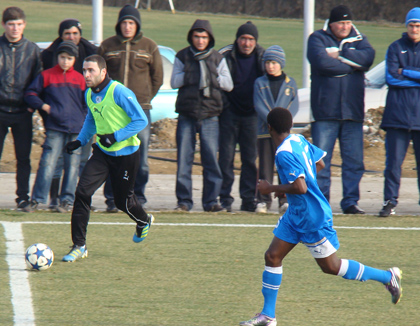 "Zestaponi"- "Gagra" 5 :2 .
After New Year, "Zestafoni", champion of Georgia, held the first sparring in football. The team of Giorgi Chiabrishvili hosted FC "Gagra", owner of Cup, on training base and beat 5:2.
Two new players of the host team showed themselves. Davit Razhamashvili scored goal at the 6th minute. Davit Mujiri made score 3:1 at the 49th minute. Rati Tsinamdzgvirshvili (2:1 – 39) and Jaba Dvali (4:1 – 52, 5:2 – 69) scored other goals from "Zestafoni". Nika Jishkariani (1:1 – 28) and Nugzar Khojashvili scored goals from "Gagra". Here are the staffs of both teams.
"Zestafoni": Kvaskhvadze (Mamaladze, 46), Teimuraz Ghonghadze (Tornike Grigalashvili, 46), Tedo Grigalashvili (Kobakhidze, 46), Giorgi Oniani (Sajaia, 46). Benashvili (Eliava, 34), Goga Beraia (Gorgiashvili, 46), Sharikadze (Babunashvili, 46), Razhamashvili (Samushia, 46), Chankotadze (Aptsiauri, 46), Pipia (Mujiri, 32, Menteshashvili, 60), Tsinamdzgvrishvili (Dvali, 46).
"Gagra": Begashvili (Maghradze, 46), Tkeshelashvili (Kalandadze, 81), Jgerenaia, Khutsidze (Zviadadze, 82), Kalandadze (Narmania, 70), Kurulashvili (Nadiradze, 46), Jaliashvili (Khojashvili, 50), Sardalishvili (Kiknavelidze, 41), Nikoloz Jishkariani (Tornike Jishkariani, 50), Jeremia, Chkuaseli (Kvantaliani, 46).
Before leaving for Spain, "Zestafoni" will hold another test match. The team will visit "Merani" Martvili on January 24.