Two Different Halves.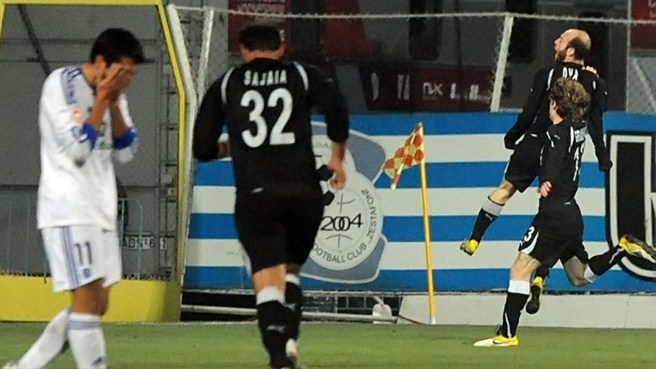 "
Zestaponi
" - "
Dinamo
" 5-1.
Pictured by www.uefa.com
Such type matches are always paid attention in any countries' football championship. It goes without saying that the same happened in Georgia. Matches between the best Georgian clubs are always spectacular in recent years and the same happened in this match. Many times champion "Dinamo" lost with active champion "Zestaponi" – 1:5.
It must be said that "Dinamo" is not distinguished club in this championship, the same can be aid about legionaries – in spite of being top scorer it cannot be said that Cisko is distinguished high-class player in this championship. Maybe this comparison is not correct but even in national basketball championship, legionary sportsmen are better professionals. After the first second, no one could predict such final result. At the beginning of the match hosts gained superiority over the rival and several times attacked dangerously. At the 4th minute, Jigauri kicked from long distance but Kvaskhadze managed to save situation and parried the ball out. In some minutes, Kakhelishvili tried to score after kicking standard kick, but Kvaskhadze again played very well. Hosts overcame fluster which is common for debutant club and time by time gained territorial superiority. But in spite of this "Dinamo" attacked at the 20th minute, Coto started offence from the left-wing, assisted to Kakhelishvili who assisted to Cisko, standing at the goalpost. He tried to score and kicked the ball by head, but goalpost saved the situation.
Of course, guests also were trying to organize attack, but their rivals who were mobilized in defense and in the centre of the field were not giving them chance to attack. They were oriented on fast attacks and were doing it quite well. At the 36th minute, Kakhelishvili kicked strongly after assisting of Jigauri and Kvaskhadze hardly managed to parry out. At the end of the fist half, hosts had chance of scoring. Gongadze assisted to Grigalashvili from the right wing, Grigalashvili assisted to Dvali, he was very close to scoring but could not manage. Soon Dvali again had chance of scoring after assisting of Gelashvili, but in vein.

At the beginning of the second half nothing bas was seemed to guests. Again attempt of Jigauri and Kakhelishvili, but again without result. At the 51st minute Grigalashvili scored -1:0. As it was appeared later, this goal was oppressive for guests. "Zestaponi" managed to score the second goal soon. Gelashvili assisted to Grigalashvili, who strongly kicked but Loria managed to parry it out, but Gorgiashvili did his well and scored the second goal – 2:0.

At the 63th minute, "Dinamo" had chance of scoring, after assisting to Cisko by Kvekveskiri. Spanish player did everything well but could not score. Soon Gelashvili assisted to Dvali, who was face to face Loria and managed to score – 3:0. Soon Aptsiauri had chance of scoring, but Loria managed to save the situation, hardly but managed. Benashvili tried to score but his kick was strong but not correct.

At the 85th minute, "Dinamo" was awaked by Tekturmanidze's goal, after assisting Odikadze, Tekturmanidze kicked and scored – 3:1. "Dinamo" became more determined and started to attack., it did well for "Zestaponi", because they managed to score two goals. Eliava and Gelashvili managed to score. The last one scored penalty kick, after setting it, Vadachkoria showed red card to Loria for playing cruelly.

Alex Garcia ("Dinamo") – "It was the match of principle and we lost with destroying score. After that it is difficult to talk about reasons of the failure. To tell the truth, "Zestaponi" has better bombardiers than we."

Gia Chiabrishvili ("Zestaponi") – "According to the first half, no one could expect this match would finish with such result. We were luckier today than our rivals."Dinamo"was not principle rival for us, but it does not mean that we have to let ourselves to relax".

14.12. 17:00. Zestaponi. "David Abashidze". 4000 spectators
"Zestaponi" – "Dinamo" 5:1 (0:0)
"Zestaponi": Roin Kvaskhadze, Temur Gongadze, Oniani, Sajaia (Kobakhidze, 75), Eliava, Dzaria (Babunashvili, 79), Shota Grigalashvili, Gorgiashvili, Dvali (Benashvili, 75), Aptsiauri, Gelashvili.
Head coach: Gia Chiaberashvili
"Dinamo": Loria, Odikadze, Khocholava, Rekhviashvili, Lomidze, Kvekveskiri, Alvaro, Coto, Jigauri (Nadiradze, 90), Kakhelishvili (Tekturmanidze, 69), Xisko.
Head coach: Alex Garcia
Goals: 1:0 Grigalashvili (51), 2:0 Gorgiashvili (59), 3:0 Dvali (70), 3:1 Tekturmanidze (85), 4:1 Eliava (88), 5:1 Gelashvili (90, with penalty kick).
Yellow cards: Xisko (43), Lomidze (57).
Red card: Loria (90)
Referee: Giorgi Vadachkoria (Tbilisi)