"Zestafoni" Returns Leadership.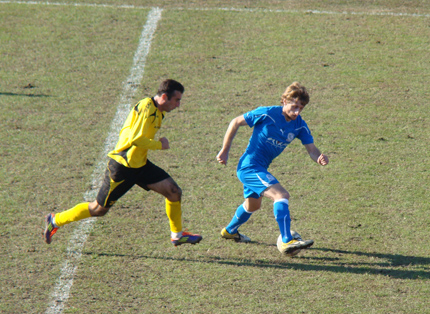 "Kolkheti"- "Zestaponi" 0:2 .
In the last round, after the failure with "Torpedo" (0:1) active champion of Georgia finished unbeatable serie. In the XIII round "Zestafoni" missed the match and as a result lost leadership and was in the third place. It is known that this match against Poti had to be held in Lanchkhuti on November 6, but due to rainy weather stadium named after Evgrapy Shevardnadze was useless for holding match and that's why the match was delayed. GFF used championship break and held this match in Zugdidi instead of Lanchkhuti.

The stadium was in good condition for showing possibilities. In fact, during whole match "Zestaponi" had advantages, Giorgi Chaberashvili's team managed to use two moments from many dangerous moments and it was quite enough for achieving their goal.

At the 39th minute Tornike Aptsiauri vice-captain of "Zestafoni" scored the first goal with strong kick. As for the final goal, Nika Gelashvili one of the bombardiers of "Zestafoni" scored decisive goal. In the second half Jaba Dvali had many chances of scoring but could not use them. Finally "Zestafoni" won the fourth match against "Kolkheti" in six championship matches (two matches finished with draw). As a result of this victory "Zestafoni" is again leader of championship. As for upcoming match, "Zestafoni" will visit Gori and will hold match against "Dila".
"Kolkheti" (Poti) - "Zestaponi" 0:2 (0:2)
November 15. Zugdidi, "Gulia Tutberidze".
"Kolkheti": Nadirashvili, Tskhvitaria (Gulua, 69), Intskirveli, Lomashvili, Megrelishvili, Shavgulidze (Gogonaia, 54) Kebadze (Tskhadaia, 46), Gvalia, Pavle Datunaishvili, Mdivnishvili, Tsitskhvaia.
Head coach: Davit Makharadze.
"Zestaponi": Mamaladze, Aladashvili, Temur Ghonghadze, Giorgi Oniani, Eliava, Tornike Gorgiashvili (Berdia Sharvadze, 78), Babunashvili, Shota Grigalashvili, Aptsiauri (Benashvili, 69), Nikoloz Gelashvili (Gogi Pipia, 69), Dvali.
Head coach: Giorgi Chiabrishvili.
Goals: 0:1 Aptsiauri (39), 0:2 Gelashvili (44),
Yellow cards: Gelashvili
Referees: M. Beuklishvili; B. Chichinadze, Z. Pipia; G. Dograshvili.