Akpala Scored Two Goals.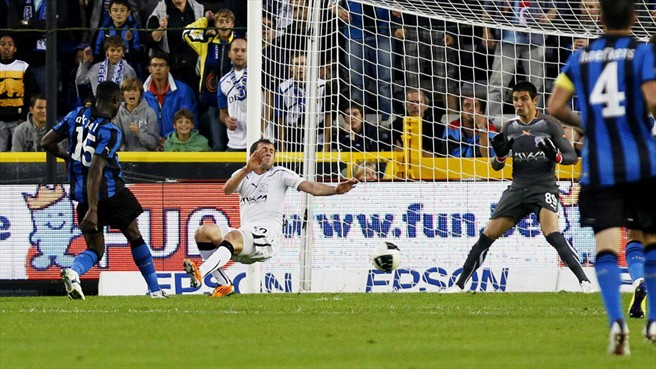 "Brugge" - "Zestaponi" 2-0.
After successful playing of "Dinamo" Tbilisi in the qualifying round of UEFA Cup 2004, Georgian clubs has never been so close to the group round of European tournaments. "Zestafoni" has a strong opponent but after the first match, Georgians were full with optimism. Optimism is good but if you want to beat such team as "Brugge", you should score goal. Georgians could not do this at "Jan Breydel".
Unlike the previous match, Giorgi Chiabrishvili, head coach of "Zestafoni", made two substitutions. Disqualified Giorgi Oniani returned to the field. He substituted Edik Sajaia. Kakha Aladashvili substituted Temur Gongadze.
Adrie Koster, head coach of "Brugge", did not change the main staff but he changed substitutes. Adrie substituted Vladan Kujovic with Sven Dhoest and Jimmy De Jonghe with Jonathan Blondel. The first dangerous moment was made at the goal of the guests.
At the 7th minute, Kobakhidze lost the ball. Soon, Eliava lost the ball and Joseph Akpala scored goal – 1:0.
"Zestafoni" was not frightened with loss. Grigalashvili shot the ball but "Brugge" had advantage. The goal of Kvaskhvadze was attacked twice but Giorgi Oniani played well.
At the 26th minute, Roin Kvaskhvadze parried the ball of Vazquez on corner. Though, attack of "Brugge" did not end up with it – Belgians took a free kick and Akpala scored another goal – 2:0.
Irakli Dzaria got injury and was substituted.
At the 42nd minute, Nikoloz Gelashvili had chance of scoring goal but Belgian goalkeeper parried it easily.
Before the end of the half, Chiabrishvili made another substitution. Aladashvili left the field and Benashvili played instead of him. Sajaia substituted Oniani in the center.
The hosts started the second half with attack. Kvaskhvadze parried the ball of Refaelov. At the 48th minute, "Zestafoni" had chance to score a goal.
Jaba Dvali shot the ball but Belgian goalkeeper parried it. One minute after this moment, Dvali scored goal but linesman showed offside.
At the 53rd minute, Georgian goalkeeper parried the ball of Moroccan Nabil Dirar. Soon, head coach of "Zestafoni" made the third substitution. Tsinamdzgvrishvili substituted Aptsiauri.
Rati Tsinamdzgvrishvili hurt his foot and could not continue playing. At this time, Chiabrishvili had already made three substitutions and "Zestafoni" played with 10 players.
If "Zestafoni" had not lost with big score, it was merit of goalkeeper Roin Kvaskhvadze. He proved that Temur Ketsbaia is not lack of high class goalkeepers in the national team.

"Brugge" (Belgium) – "Zestafoni" (Georgia) (2:0)
Brugge, August 25. "Jan Breydel", 23 725 spectators.
"Brugge": Coosemans, Hogli, Almeback, Hoefkens, Zimling, Refaelov, Dirar, Vazquez (Blondel, 65), Akpala (Meunier, 71), Donk, Odjidja (Van Acker, 78).
Head coach: Adrie Koster.
"Zestafoni": Kvaskhvadze, Aladashvili (Sajaia, 44), Oniani, Kobakhidze, Eliava, Gorgiashvili, Grigalashvili, Aptsiauri (Tsinamdzgvrishvili, 57), Dzaria (Benashvili, 33), Dvali, Gelashvili.
Acting head coach: Giorgi Chiabrishvili.
Booked: Dzaria (21), Vazquez (21), Oniani (23), Aladashvili (34).
Goals: 1:0 Akpala (7), 2:0 Akpala (26).
Referees: Tony Asumaa, Mati Heininen, Miko Alakare, Denis Antamo (all from Finland).