Championship Start of "Zestafoni".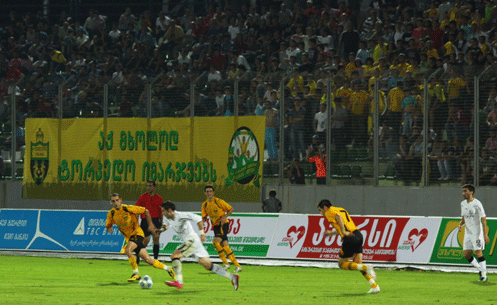 "Torpedo"- "Zestaponi" 1-2.
The first match of the 23rd national football championship which was held in Kutaisi can be considered as the match of the season. Both teams are fighting for the champion title. Besides that, regional derby is always tense and interesting.
The match did not justify the expectation. It was the fault of bad playing of "Torpedo". In spite of that, "Zestafoni" played without head coach the team showed high level football and beat the opponent. Before the start of the match, the national anthem was sung and the flag was raised. Little Giorgi Sakhelashvili did it with Sevasti Todua and Zurab Mamaladze. He is a son of Goga Sakhelashvili who tragically died in the war with Russia in 2008. People who gathered at the "Central" stadium kept silence for a minute in the memory of those who died in this war.
The guests got advantage. At the 2nd minute, Dzaria assisted Gongadze who assisted Tsinamdzgvrishvili. Rati could not catch the ball and shoot it.
Then, "Torpedo" attacked "Zestafoni". Seturidze assisted Gotsiridze but Dzaria did not let him kick the ball. Soon after, Gotsiridze shot the ball with head but the ball flew over crossbar. After this moment, Chikviladze kicked the ball but Mamaladze parried it on corner. At the 15th minute, attack of "Zestafoni" ended up with goal. Tsinamdzgvrishvili scored it – 0:1.
The guests controlled the match. Their midfielder Shota Grigalashvili is worth mentioning.
At the 28th minute, Dvali tried to kick the ball but he assisted Grigalashvili. Grigalashvili scored goal but he was offside. At the 40th minute, Eliava shot the ball and – 0:2.
Before the end of the half, the guests had chance to score goals but they missed it.
In the second half, Giorgi Megreladze substituted Revaz Gotsiridze. At the 52nd minute, the hosts made the most dangerous moment of the match but defenders of "Zestafoni" did not let them score goal.
After that, "Zestafoni" controlled the match again. The match was coming to an end when at the 77th minute, Oniani played with head in his penalty area and Vadachkoria appointed penalty. Gia Megreladze took penalty and scored – 1:2.
Giorgi Kiknadze (head coach of "Torpedo"): "I want to congratulate our opponent on deserved victory. "Zestafoni" is on optimal form, unlike us. We will make changes in other matches. Everyone will see real "Torpedo" after March 4-5".
Gia Chiabrishvili (coach of "Zestafoni"): "The match turned out quite good. We had a serious opponent. I am sure "Torpedo" will play better soon".