Gia Geguchadze: "Zestafoni" Can Do More".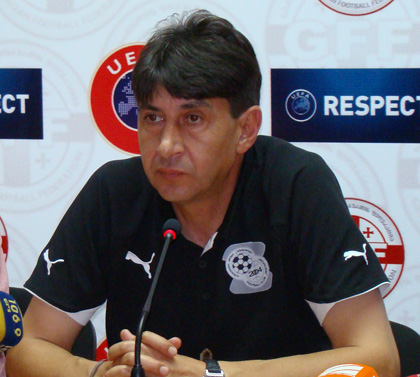 Gia Geguchadze - Head-coach of "Zestaponi".
After the match of "Zestafoni" – "Sturm", head coaches of the teams held press conference for journalists. First, host head coach Gia Geguchadze showed up at the press conference.
Gia Geguchadze (head coach of "Zestafoni"): We had advantage for the whole match but after scoring goal we made mistake and our opponent use it. But I think nothing has finished yet – our team will do its best to go through the next round.
- Unlike the match against "Dacia", spectators watched a different match.
- "Sturm" is stronger team than "Dacia". The pitch was in a bad condition and "Zestafoni" could not show its possibilities. It was very hot and players could not play quickly.
- Why did "Zestafoni" play all corner kicks?
- I do not think it had influence on the result of the match. We just had to score more goals.
- Of course, you will have to make some changes in the responsive match.
- Of course, I will do it. I am sure that our team can do more.
Franco Foda (head coach of "Sturm"): "We had a good opponent. While the break, I told my players to play more actively.
Everything was going well for us in the first 15 minutes of the second half. When the score was 0:1, our goalkeeper left the goal and your forward could not score in the empty goal, we were saved.
1:1 is good result for us. I am sure that the match in Graz will be difficult.
- Of course, if you had been scored the second goal you would not have been so satisfied.
- I think that 0:2 would not have been end for "Sturm".
- Perhaps, "Sturm" will show different match.
- Yes, we are in a good situation now. We did not have many players because of disqualifications and injuries.
- Are you satisfied with playing of Popkhadze?
- It was not an easy match for Giorgi. I think he played well.