Gia Geguchadze:"I Wish Popkhadze Success, But not for Tomorrow".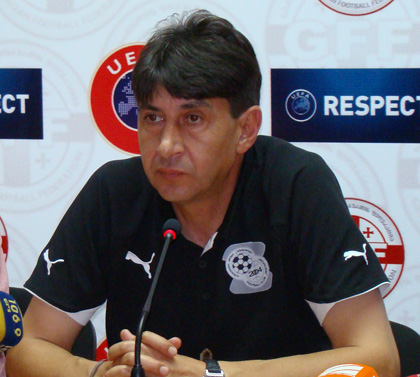 Gia Geguchadze - Head coach of "Zestaponi".
The schedule of holding pre-match press-conference was changed due to 2-hour late arrival of Austrian club in the capital of Georgia, Tbilisi.
Franco Foda head coach of "Sturm" Graz talked to journalists after the training. Before him, Gia Geguchadze head coach of "Zestaponi" talked to journalists.

Gia Geguchadze: "The team is preparing in usual rhythm. We understand quite well importance of tomorrow's match. We have quite strong rival. We watched video-records of "Sturm" matches and all of us agreed that our chances are equal. We will try to represent our country successfully at international level and a result of tomorrow's match will have big importance in it".

- You watched video-records of "Sturm". What is your impression on your rival?
- This team plays in quite strong style. They have creative players, so quite difficult match is ahead us. "Sturm" is a team which is mobilized during the whole match and it will not give in anything easily.

- After the responsive match with "Dacia" you stated that there are a lot of injured players in the club. Has situation been improved?
- I can say one thing – Giorgi Khidesheli is seriously injured, he needs operation. Doctors are still discussing. So, he will not be able to help "Zestaponi" for a long time. As for other players, they suffer from micro-traumas and I hope that all of them will recover for tomorrow.

- How much important is that you do not host "Sturm" in Zestaponi?
- Of course, an usual atmosphere is an usual atmosphere but "Zestaponi" is Georgian club and we play in Georgia. So it does not matter where we hold the match.

- ??there is big probability that tomorrow Giorgi Popkhadze a former player of "Zestaponi" will play against you…
- By the way we always used to beat clubs which owns Georgian players. I hope tomorrow will happen the same. I wish successful match to Popkhadze but not for tomorrow.
Mamuka Kobakhidze defender of "Zestaponi" also attended this match and stated the following:" whole team is preparing with whole mobilization for tomorrow's match. We will do our best for victory. Chances are equal 50-50".