Celebration is Postponed in Zestaponi.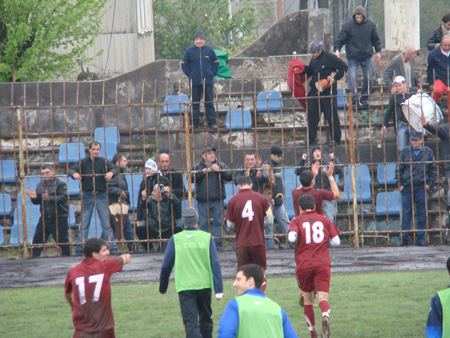 According to the results of the 33rd round of Georgian 22nd national football championship, we were to declare "Zestaponi" as champion.
"Zestaponi" beat "Kolkheti" 4:1 in Poti and was waiting for the match to end in Samtredia. Referee started the match 15 minutes late because of absence of ambulance at "Erosi Manjgaladze" stadium. At the 81st minute, "Samtredia" was winning the match with the goal of Vaja Lomashvili. Finally, "Zestaponi" postponed celebration because first Tatanashvili managed to score goal and then Gulverd Tomashvili did it – 2:1 in the favor of "Dinamo".
"Baia" celebrated victory over "Olimpi". The team won 3:1. "Torpedo" Kutaisi won its match too. The team hosted Bolnisi and won 4:1. Hat trick of Revaz Gotsiridze is worth mentioning. Sergo Orbeladze advaced "Sioni" at the 19th minute but the hosts could not manage to keep the advantage for a long time.
The only draw was showed in Tbilisi where "Wit Georgia" was losing against "Spartak" but finally, the team managed to equalize score – 1:1.
The next round will be held on May 14. "Zestaponi" will host "Samtedia" at "Davit Abashidze" stadium. In case of winning, the team will become champion.