Decreased Chances of "Olimpi".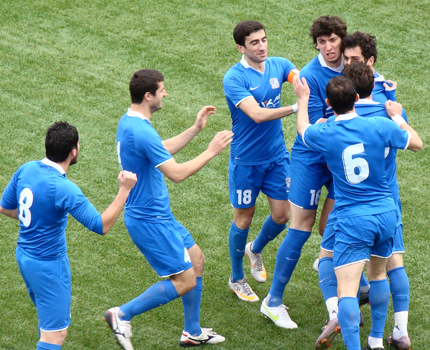 As a result of the 31st round match of XXII Georgian National Championship the chance of championship has decreased for "Olimpi" Rustavi.
"Olimpi" hosted "Zestaponi. Nika Gelashvili the best bombardier of the championship scored at the 40th seconds and "Zestaponi" advanced. At the 33rd minutes Irakli Dzaria managed to score and as a result "Zestaponi" had big advantage. At the 67th minutes Giorgi Murvelashvili scored a goal, but in spite of this "Olimpi" could not equalize and finally the match finished 2:1.

"Sioni" Bolnisi hosted outsider "Spartaki". At the 69th minutes Givi Didava scored penalty kick and "Bolnisi" managed not to loose this match – 1:1.
"Kolkheti" hosted "Torpedo" Kutaisi in Poti. At the 41st minutes Mdivanashvili scored a goal and at the 54th minutes Gotsiridze equalized, finally the match finished – 1:1.
"Samtredia" hosted "Wit-Georgia" Tbilisi in Samtredia. Revaz Ghaniashvoli scored penalty kick and it was the decisive goal in this match.
"Dinamo" Tbilisi won over "Baia"Zugdidi in Zugdidi. At the 49th minutes Givi Kvaratskhelia scored and "Dinamo" advanced, but at the 61st minutes Kvaratskhelia equalized/ at the 78th minutes again Kvaratskhelia scored decisive goal and brought victory to his team – 1:2