"Zestaponi" Ended Series of Failure with "Dinamo".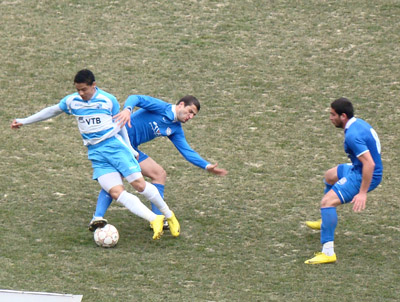 "Dinamo"
-
"Zestaponi"
0-0
After renovating Georgian Championship "Dinamo" Tbilisi drew the second time in a row. Because of it Kakha Kacharava head coach of "Dinamo" showed his dissatisfaction at the press-conference which was held after the match.
According to him the main reason is that the main staff of the team has not created yet. As he mentioned "Dinamo" needs 3-4 matches for achieving their desirable goal. After playing against "Spartak", "Dinamo" was changed against "Zestaponi". Tornike Zarkua goalkeeper, midfielders - Nika Kvekveskiri and Ednilson and forward Dimitri Tatanashvili appeared in reserve in this match. In this following match Zurab Arziani and Bosnian forward Petar Ielich had debut, but their playing was not memorable.
"Zestaponi" had also changes in this central match. Giorgi Khidesheli could not play in this match due to high temperature and Irakli Dzaria due to injury. Geguchidze assistant of the head coach of "Zestaponi" stated that he was neither satisfied not dissatisfied with this match, but in spite of this "Zestaponi" managed to gain point in this match.
This match was really tense but temp was very low and that's why it was not spectacular match for football fans. At the 18th minutes Brazilian Robertihno forward of "Dinamo" started attack and finally he kicked in direction of goal of "Zestaponi", but could not manage to score. In one minute after assisting Robertihno, Donald Jus was owning the ball and he was face to face the goalkeeper, but Kvaskhadze saved the situation after his kick. At the 22th minutes Shota Grigalashvili was trying to score but goalkeeper of "Dinamo" saved the situation and parried out the ball. At the end of then first half Serbian midfielder Semir Hajibulic was injured in fight with Giorgi Oniani and was taken out of the field. He was changed with Ednilson.
In ten minutes after starting the second half, Gorgiashvili was injured and was changed by Benashvili. At the 67th minutes Robertihno won the ball after fighting three rivals, but kicked very bad. Soon Kakha Aladashvili assisted the ball to Rati Tsinamzgvrishvili from the right wing but he did not receive the ball. At the 72nd minutes Marco Marovic started attack from the left wing and assisted the ball to Aleknsader Koshkadze, he was near scoring a goal. At the 75th minutes Grigalashvili kicked from the long distance, but without result. At the 84th minutes Giorgi Kakhelishvili started attack from the right wing and appeared in the centre, but he kicked without exact direction. "Zestaponi" had chance of gaining 3 points in extra time but Loria saved the situation after kicking Nikoloz Gelashvili.
Kakha Kacharava: "The contradiction between "Dinamo" and "Zestafoni" is always interesting. In the first term of play there were several moments and our play was appropriate of the field. But what about the second term it wasn't well enough – we have a lot of new players, the team needs renovation. Two score during the two tours isn't contented for me."
George Chiabrishvili: "The game was very difficult. We had our own aim and were expected totally different result at the end of the game. The players had equal possibilities during the play. We will never be contented with the score, but shouldn't forget that our opposite team is "Dinamo". The renovation process in our group was a little bit late, but for that time nothing could be changed. We have the only goal during the championship – To become champions and to reach our goal we will do everything."
19th February. Tbilisi. The National Stadium.
Dinamo (Tbilisi) - Zestaponi 0:0
Dinamo: Loria, Tomashvili, Kakubava, Givi Kvaratskhelia, Marovich, Robertinio (Kakhelishvili, 74), Hadzibulic (Ednilson 43), Koshkadze, Arziani (Kvekveskiri, 52), Djousse, Jelic.
Zestaponi: Roin Kvaskhvadze, Kobakhidze, George Oniani, Aladashvili, Eliava, Daushvili, Grigalashvili, Gorgiashvili (Benashvili, 58), Afciauri (Dvali, 83), Babunashvili, Tsinamdzgvrishvili (Gelashvili, 77)
Yellow cards: Aftsiauri (18), George Oniani (65), Babunashvili (90+2)
Referees: T. Gvantseladze, Z. Mentetashvili, G. Chigogidze, K. Gagnidze.