"Zestaponi" started preparation.
Geguchadze will Decide the Issue of Croatian Players before Leaving for Spain.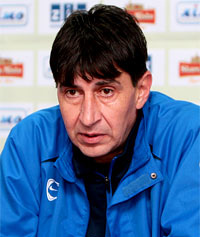 Football club "Zestaponi" resumed preparation for the second half of the National Championship on January 10. After the medical checkup, the team gathered in Zestaponi and is training twice a day. 2 Croatian football players - a 24-year-old defender Goran Gruica and a 23-year-old midfielder Marin Vucemilovic-Grgic are trying to establish themselves in "Zestaponi". The team will prepare in Georgia till January 25 and then they will leave for Spain where they will play at "Marbella Cup" on February 1-8. "World Sport" got interested in the current situation of the team and contacted head coach Gia Geguchadze.

- On what form are the players after the vacation?
- Their condition is satisfactory.
- How well do Croatian football players play?
- It is difficult to talk about it now. When everything will be decided, we will talk about impressions then.
- When will their issue be decided?
- Before leaving for Spain.
- Is any Georgian player tested in "Zestaponi" now?
- No one has come.
- Has Jaba Dvali resumed training?
- Dvali had temperature and that is why he could not train. He has already joined the team.
- Are you going to add players before the resumption of the season?
- I have a desire but I cannot talk about it because negotiations are held yet. We need strengthening but there is a deficit of players. I mean Georgian players as well as foreign players.
- Are you going to hold friendly matches before leaving for Spain?
- On Friday, the second team will play against each other and some players of the first team will add to them. On January 17, we will hold a bilateral match. On January 23, we also have a match day but we have not chosen an opponent yet.