The Best Substitute is Top Scorer.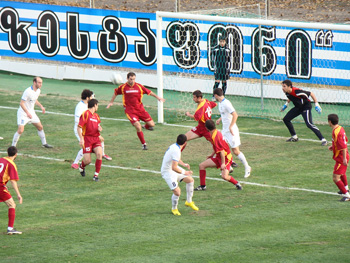 "Zestaponi" - "Sioni" 4-0
The previous match of "Zestaponi" against "Samtredia" was the 200th match for "Zestaponi". "Zestaponi" scored 7 goals in that match. Gelashvili made hat trick, Dvali and Tsinamdzgvrishvili - doubles. These last two players scored 2-2 goals this time too.

Jaba Dvali scored a goal at the 29th minute. It must be said that all goaling combinations of "Zestaponi" started from the right wing. Then Giorgi Khidesheli assisted to Dvali and the forward scored another goal.
20 minutes before the end of the match, Geguchadze substituted Gelashvili with Rati Tsinamdzgvrishvili. Rati scored the first goal at the 86th minute and the second one at the last minute. He scored 10 goals in this season.


December 5, Zestaponi. "Davit Abashidze". 2000 spectators.
"Zestaponi" - "Sioni" (Bolnisi) 4:0 (1:0)
"Zestaponi": Roin Kvaskhvadze, Aladashvili, Giorgi Oniani, Khidesheli, Eliava (Babunashvili, 46), Daushvili, Gorgiashvili, Aptsiauri, Grigalashvili, Dvali (Benashvili, 80), Gelashvili (Tsinamdzgvrishvili, 71).
Head coach: Gia Geguchadze.
"Sioni": Merlani, Kurasbediani, Orbeladze (Vashakidze, 35), Giorgi Targamadze, Lasha Chelidze, Nozadze, Nemsadze, Chivadze, Manuchar Okropiridze (Isiani, 65), Ugrekhelidze, Giorgi Chelidze (Revaz Gotsiridze, 46).
Head coach: Giorgi Kipshidze.
Yellow card: Okropiridze.
Goal: 1:0 Dvali (29), 2:0 Dvali (65), 3:0 Tsinamdzgvrishvili (86), 4:0 Tsinamdzgvrishvili (90).
Referee: Malkhaz Beuklishvili (Kvareli).