"Zestaponi" won over "Olimpi".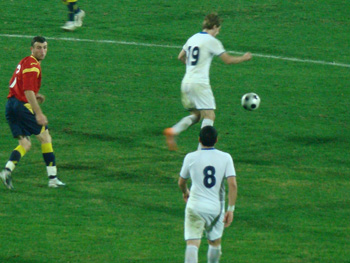 "Zestaponi" - "Olimpi" 3-0
The first match is always very important in Cup matches, the teams try more to show their best opportunities and generally in repeat matches they act according to some tactic. Yesterday, were held the first cup match in Zestaponi. The most distinguished teams "Zestaponi" and "Olimpi" met each other.

Guests had advantages at the beginning of the match. "Olimpi" had chance of scoring. At 1st minute Getsadze started attack from the left wing, approached penalty area and kicked strongly, but a goalkeeper Roin Kvaskhadze dived and protected his goal from entering the ball into his goal. "Olimpi" players were given right to kick corner kick. At the 8th minutes Bolkvadze performed corner kick, but goalkeeper parried the ball out and saved the situation again.
At first sight somebody would think that "Olimpi" players were playing in their own penalty area. As for "Zestaponi" they could not make any dangerous at the beginning of the match and if Roin Kvaskhadze did not save the situations several times they would lose with big point difference. At the 18th minutes, he did the little miracle once again. After Bolkvadze-Razmadze-Berishvili's combination he saved the situation. He left the goal in time and did not let forward to kick well. In two minutes Modebadze kicked in direction of goal, but it was not exact kick.
At the 31st minutes guests' defender Temur Gonghadze made a mistake, Nika Gelashvili used it and was face to face to a goalkeeper Berianishvili, a forward did not leave any chances to him and scored 1:0. This goal confused guests very much and it was visible at the end of the first half. As for hosts they had the second chance of scoring, Grigalashvili attacked perfect, approached the penalty area but kicked with wrong direction. At the 45th minutes Daushvili had the same chance.
In the first minutes of the second half "Olimpi" had advantages. Aleksandre Kvakhadze a midfielder attacked and kicked very strongly but could not score. At the 49th minutes a goalkeeper of "Zestaponi" again saved the situation, after really very nice combination of guests. Kavtaradze had chance of scoring, a goalkeeper saved the situation but repeatedly Kavtaradze wanted to kick but this time defenders played well. Soon Bersiashvili tried to score but in vein.
At the 57th minutes Zaal Eliava assisted to Lasha Japaraidze from the left wing. Japaridze returned the ball to his keeper in such way that Bediashvili had not chance of parry this ball out. Like the first half, hosts' combination finished with scoring. Tornike Aptsiauri assisted Gelashvili and this one assisted to Grigalashvili, who was face to face with goalkeeper. Bediahsvili parried the ball out but Aptsiauri who was near the goal did not leave any chance to the goalkeeper. He kicked, the ball touched Kvaskhadze and finally entered into the goal-2:0.
At the 76th minutes Modebadze who entered into the penalty area, fall down and hosts were demanding penalty kick, but Silagava a referee of this match ordered player to continue playing. Modebadze showed his dissatisfaction and that's why was shown yellow card.
It must be mentioned that Gia Geguchadze made such changes which increased their advantages. At the 79th minutes, Geguchadze let Alekey Benashvili to play. His first touch to the ball was goal assist. Benahsvili started playing actively and while being face to face to the goalkeeper, he assisted goal to Gelahsvili. Gelashvili scored with the left leg – 3:0.
After this Dvali appeared and made some dangerous attacks. Grigalashvili had chance again of scoring, but Bedianishvili did his best.

December 1. Zestaponi. "Davit Abashidze". 3000 spectators
"Zestaponi" (Zestaponi) -"Olimpi" (Rustavi) 3:0 (1:0)
"Zestaponi": Roin Kvaskhadze, Aladashvili, Giorgi Oniani, Khidesheli, Eliava, Daushvili, Dzaria (Benashvili, 79), Babunashvili (Gorgiashvili, 57), Gelashvili (Dvali, 87), Aptsiauri, Grigalashvili.
A head coach: Gia Geguchadze
"Olimpi": Bediashvili, Ghonghadze, Rekhviashvili, Kavtaradze, Beriashvili, Kvaskhadze, Japaridze, Getsadze (Giorgi Chelidze, 65), Bolkvadze, Razmadze, Modebadze.
A head coach:Netsor Mumladze
Goals:1:0 Gelashvili (31), 2:0 Aptsiauri (64), 3:0 Gelashvili (80).
Yellow cards:Aladashvili (71), Modebadze (76), Gelashvili (81), Kavtaradze (83).
Referee: Lasha Silagava (Tbilisi)