"Olimpi" Reapeted History.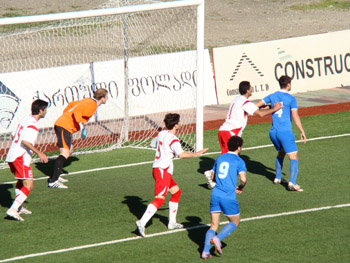 "Spartaki" - "Zestaponi" 1-0
"Olimpi" repeated history and became leader after unsuccessful competing as it did last year. At the end of the match was set penalty and a captain of the team Kvakhadze performed it, Rekhviashvili was controling the situation but ball touched Daushvili's shoulder and goalkeeper could not save the situation and finally - 1:0.

Such start made this match spectacular and tense. "Olimpi" played the best match in this championship. "Zestaponi" which fights fro championship, showed quite strong resistance.
Host team played quite well in defence. At the 13rd minutes after assisting of Dvali, Gelashvili was face to face to a goalkeeper, but Daushvili saved the situation after kick and parried out the ball.
"Olimpi" was playing fast attack football. Getsadze and Modebadze were distinguished in this match. A forward Beriashvili was kicking ball quite often in direction of Kvaskhadze's goal, but without result.
In the first half the most distingueshed moment was at the 42nd minute, quests made quite well orginised combination. Irakli Modebadze kicked the ball but the goalkeeper saved the situation.
In the second half "Zestaponi" activated, but "Olimpi" was attacking again very fast. Modebadze assisted to Getsadze from the left wing, this one was face to face to the goakeeper, who again did her best and saved the situation.
At the 64th minutes Shota Grigalashvili performed penalty from left wing in direction to opponent's goal. At first the ball touched the goalposts, Dvali was very near at the goal but he could not manage to kick. In the second half Daushvili's long-distance kick was also distinguished, but the goalkeeper played without mistake.
It is worth mentioning that security system within the match was quite well.
After the match
Gia Geguchadze (head coach of"Zestaponi"): "As we saw, it was quite tense match. I cannot say that we deserve to loose, but i think that drew would be very logic end. But football results sometimes are very far from logic".
Nestor Mumladze (head coach of "Olimpi"): "We were expecting very tense match. Players did their best and our aim was realized".

"Olimpi" (Rustavi) - "Zestaponi" 1:0 (1:0)
Rustavi. November 6 , 2010. "Pholadi", 900 spectators.
"Olimpi": Bediashvili, Ghonghadze,Rekhviashvili, Kvakhadze,Japaridze,Dobrolovski (Chelidz, 64),Kavtaradze (Kemoklidze 90+3),Razmadze,Getsadze(Kazaishvili 82), Modebadze, Beriashvili.
"Zestaponi": Kvaskhadze, Aladashvili, Oniani, Khidasheli, Eliava, Daushvili (Gorgiashvili 77), Dzaria( Tsinamzgvrishvili63), Apciauri, Grigalishvili,Gelashvili, Dvali (Benashvili, 81).
Yellow cards: Dzaria (14), Rekhviashvili (34), Modebadze (37), Ghonghadze (45+1), Aladashvili (47), Daushvili (52), Bediashvili (73).
Goal: 1:0 Kvaskhadze (3).
Referee: Levan Kvaratskhelia (Zugdidi).