Outsider Syndrome.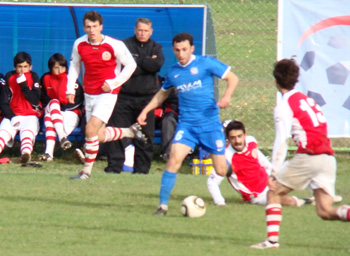 "Spartaki" - "Zestaponi" 1-1
Another round finished and there is no changes in schedule. "Zestaponi" had a chance to become a real leader. The team had to beat outsider for that.

We remember answer of Gia Geguchadze, head coach of "Zestaponi" - what can prevent "Zestaponi" from becoming a champion? Only "Zestaponi" itself. Geguchadze is not lying and the match against "Spartaki" in Gori proves that.
After the appointment of Badri Kvaratskhelia as a head coach of "Spartaki", "Dinamo" Tbilisi could not win over "Spartaki" (0:0). In the previous match, "Olimpi" Rustavi scored the decisive goal against "Spartaki" at the last minute and gained 3 points.
"Spartaki" scored the first goal against "Zestaponi". After the assist of Valeri Bolkvadze, a 18-year-old Besik Dekanoidze changed the direction of the ball with his head.
At the 23rd minute, the hosts committed foul against Nika Gelashvili and Nonikashvili awarded a free kick. Kakha Aladashvili took free kick and scored it - 1:1.
According to the information of official website of "Zestaponi", the guests had advantage in the second half. Gelashvili and Dvali had chance to advance their team but in vain. There were two episodes when players of Geguchadze had a right to demand penalty but referee thought other way.
According to head coach of "Spartaki", his team was close to goal in the second half but Lasha Chaladze could not win over Roin Kvaskhvadze. In short, 1:1 in the favor of "Spartaki".
After the match:
Badri Kvaratskhelia (head coach of "Spartaki"): "Zestaponi" is in the 1st place but our boys played well. After 1:1, both teams had chance to score a goal. My players did their best. It would have been better if we had won. "Spartaki" is in the last place and our opponent is one of the best teams in Georgia. I think, draw is a logical result.
October 31, Gori. "Kartli".
"Spartaki" (Tskhinvali) - "Zestaponi" 1:1 (1:1)
"Spartaki": Grishikashvili, Giorgi Alavidze, Chapodze, Diego Lobjanidze (Kakashvili, 46), Tetunashvili, Shota Kashia, Shonia, Babulaidze (Chaladze, 56), Valeri Bolkvadze, Dekanoidze (Clovis, 78), Zurab Dzagania.
Head coach: Badri Kvaratskhelia.
"Zestaponi": Roin Kvaskhvadze, Benashvili (Dvali, 30), Giorgi Oniani, Kobakhidze, Eliava, Murtaz Daushvili, Gorgiashvili (Aptsiauri, 68), Grigalashvili (Pipia, 53), Babunashvili, Aladashvili, Gelashvili.
Head coach: Giorgi Geguchadze.
Yellow cards: Kakashvili, Babunashvili.
Goals: 1:0 Dekanoidze(12), 1:1 Aladashvili (23).
Referee: Arsen Nonikashvili.