Sanaia Recognized Advantage of Opponent.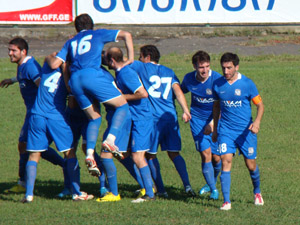 "Samtredia" - "Zestaponi" 1-3
The last round match of National Championship was held between west Georgian teams "Zestaponi" and "Samtredia". "Zestaponi" in spite of losing in Zugdidi beat "Torpedo", "Kolkheti" and "Samtredia" and is still a leader. Yesterday's match was very important for both sides, "Samtredia" plays every interior match very inspired and carefully and as for "Zestaponi" this team fights for championship and for them even one point is very important.

At the beginning of the match guest team advanced and at the 18th minute "Zestaponi" scored double. At the 13rd minute Eliava started attack and after Dvali's assist Aptsiauri scored- 0:1. In five minutes Giorgi Oniani performed standard kick and scored responsive goal - 0:2.
After two goals players were not such active as before but at the 32nd minute fans activated. Guests were shown penalty, Chomakhidze performed standard kick and 1:2.
In a few minutes "Samtredia" had chance of drawing, Kvaskhadze hardly managed to parry out the ball after Chomakhidze's standard kick. After Kakaladze's assist Kverenchkhiladze was face to face goalkeeper, but after his kick Benashvili dived and saved the situation. At the 43rd minute Chomakhidze kicked, but he could not score ball touched the goalposts.
At the end of the first half "Zestaponi" activated and tried to take by storm the rival's goal. The most distinguished among "Zestaponi" players was Aptsiauri, who assisted to one of the best players Dvali. He kicked strongly but ball touched the goalposts and in second time he kicked with wrong direction. Before the end of first half Aptsiauri attacked again, but hi kicked the ball with wrong address.
The tactic in the second half was the same, at the 54th minute after Dvali- Aptsiauri's combination, Aptsiauri and goalkeeper was face to face. But he did not kick and assisted ball to Dvali. Dvali scored but Gabriadze the assistant of referee showed off side and goals was anulled. At the 63rd minute Gorgiashvili who came on change kicked to goal's direction, but Dzagania parried it out.
At the 72nd minute after Dvali-Aptsiauri combination, Tornike kicked strongly, the ball touched the goalposts and then it appeared in the goal. Fans protested this goal, according to them Aptsiauri kicked from the offside and in protest at it they dropped plastic bottle in traces.
This goal caused hosts' active playing, Pavliashvili had chance of scoring soon but Oniani parried out with head his strong kick. In some minutes Kvaskhadze saved the situation again, he managed to parry out Chomakhidze's kick in very difficult position. At the end of the second half fans of "Samtredia" showed big protest to referee, they were demanding setting penalty after crash of Khidasheli and one of the player of "Samtredia". According to fans defender fouled against Khidasheli, but referee ordered to continue playing.
Soon Silagava whistled and the match finished 1:3.
Gia Geguchadze("Zestaponi"): "I am satisfied with the result, but not with the quality of playing. But it is impossible to show technical football in such pitch".
Gela Sanaia("Samtredia"):"Our opponent deserved to win. They were better in every component then we, but if we consider our condition it is not surprisingly. Situation is stabilized time by time and I hope that soon everything will be all right".
24.09 Samtredia. "Erosi Manjgaladze". 2000 spectators
"Samtredia" – "Zestaponi" 1:3 (1:2)
"Samtredia": Dzagania, Chkhikvadze, Kirtadze (Khumarashvili, 64), Lasha Kebadze, Tornike Shalikashvili, Bakuradze (Irakli Shalikashvili, 77), Chomakhidze, Kakaladze, Kverenchkhiladze (Kirkitadze, 46), Tkemaladze, Pavliashvili.
Head coach: Gela Sanaia.
"Zestaponi": Roin Kvaskhadze, Benashvili, Giorgi Oniani, Khidesheli, Eliava, Daushvili, Dzaria (Pipia, 71), Aptsiauri, Gelashvili (Aladashvili, 71), Dvali, Babunashvili (Gorgiashvili, 53).
Head coach: Gia Geguchadze.
Goals: 0:1 Aptsiauri(13), 0:2 Oniani(18), 1:2 Chomakhidze(32), 1:3 Aptsiauri(72).
Yellow cards:Gelashvili, Benashvili, Tkemaladze, Pavliashvili.
Referee: Lasha Silagava.