Victory of Favorites.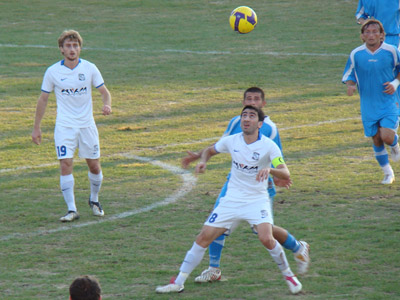 "Zestaponi" - "Kolkheti" 2-0
All matches of the 6th round finished at the national football championship. "Olimpi", "Dinamo", "Zestaponi", "Wit Georgia" - they are leading the tournament schedule like in the last season.

Two matches were held in Tbilisi. Both teams from Tbilisi won. At the national stadium "Boris Paichadze", "Dinamo" hosted "Samtredia" and beat it 3:2. In spite of the result, "Dinamo" had advantage and if did not affect on the scored goals, players of Kakha Kacharava should blame themselves. At the 32nd minute, Irakli Liluashvili ("Dinamo") scored a goal with head. After 4 minutes, Aleksandre Koshkadze scored a goal too.
7 minutes after the start of the second half, "Dinamo" increased a 2-goal difference - Liluashvili took a corner kick, then Levan Kakubava shot the ball with head and 3:0. The guests had some good moments to score a goal. Vako Tkemaladze managed to score the first goal at the 56th minute. Before the final whistle of referee Shota Chomakhidze ("Samtredia") took a free kick and scored.
3 goals were scored in the second half of the match held on "Mikheil Meskhi". "Spartaki" Tskhinvali hosted "Wit Georgia" Tbilisi. At the 50th minute "Spartaki" was winning with a penalty taken by Temur Shonia. Jaba Lipartia, attacking midfielder of "Veterinaries", changed the match. After the assist of Irakli Klimiashvili, at the 66th minute, he scored the first goal and at the 89th minute he scored the second one and "Wit Georgia" won 2:1.
Champion "Olimpi" hosted "Baia" Zugdidi in Rustavi and beat it 2:0. Luka Razmadze scored a penalty at the 54th minute. Vako Kazaishvili scored the final goal.
Visit of "Kolkheti" in Zestaponi finished unsuccessfully. In the firs half players of Besik Sherozia managed to save their goal but in the second one, players of "Zestaponi" changed the result of the match. Rati Tsinamdzgvrishvili scored a goal at the 57th minute. In the last 10 minutes, Jaba Dvali increased the advantage of his team - 2:0.
"Torpedo" Kutaisi left the pitch without winning. They hosted "Sioni" Bolnisi. Match finished draw. Fans of "Torpedo" could not see a scored goal this time too - 0:0.
Matches of the 7th round will be held on September 24-25.