"Zestaponi"-"Torpedo" 2:1.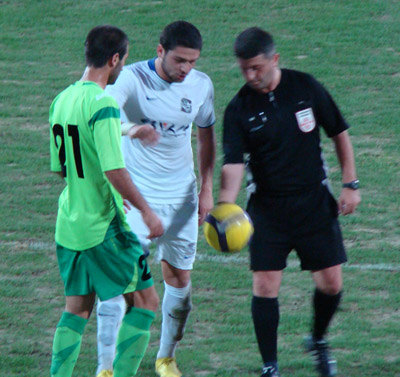 "Zestaponi" - "Torpedo" 2-1
The match between "Torpedo" and "Zestaponi" was quite tense and dramatic. After losing a few fans came to support for "Zestaponi" some supporters explains it with high price of ticket, but most of them think that unsuccessful playing of "Zestaponi" was reflected on fans.

At "David Abashidze" stadium were many supporters of the both teams. First half of the match was unexpectedly for hosts. "Torpedo" owned advantages in the first half. Nika Kvaskhadze had chance of scoring, goalkeeper and defenders were controlling situation, but after Kvaskhadze's kick ball changed trajectory radically and it appeared between the legs of Vakhtang Kvaratskhelia. Goalkeeper dived and did not leave chance forward of scoring. In this moment ball touched the goalposts and forward also injured a little.
At the 8th minute after performance of corner kick by Nika Kvaskhadze, Chikviladze scored with head kick and advanced his team 1:0. No one was waiting for such start. There was some changes in "Zestaponi", leading players of the team appeared on the pitch in the second half, to tell the truth "Zestaponi" did not have any chance of scoring in the first half. There were several long-distance kicks but without any result.
At the beginning of the second half "Zestaponi" tried to own advantage. Geguchadze changed some players soon and Aladashvili, Aftsiauri and Gelashvili appeared on the pitch. Before changes Grigalashvili kicked with the left leg but kick was not strong enough. Kvilitia dropped ball by mistake, Tsinamdzgvrishvili could not kick because of well playing of Guruli who saved the situation. In some minutes "Torpedo" started attack, but no one helped Khachiperadze, so this attack ended without result.
"Zestaponi" had real first scoring chance at the 62nd minute. Benashvili assisted from the right wing, but Kvilitia parried out the ball very well and in a result of it he deserved applause from their fans. At the 70th minute match was equalized. Daushvili kicked, goalkeeper could not parry this time and scored 1:1.
As it was expected hosts activated more, they had several chances of scoring but Kvilitaia was playing well.
It seemed that "Torpedo" should win but they were punished again with free kick. After Aladashvili's assist, Daushvili scored double and brought 3 points to his team 2:1.
Nestor Mumladze("Torpedo"):"It was an interesting and tense match. Our opponent was quite strong, unfortunately goals were scored after corner kicks. We had chance of gaining point".
Gia Geguchadze(" Zestaponi"):"It was quite difficult match. Thanks guys for devotion, we gained 3 points with it. "Torpedo" showed big resistance, this team will improve playing soon. They have very good specialist in ahead, but it needs time to create team".

15. 09 19:00 Zestaponi. "Davit Abashidze". 1000 spectators
"Zestaponi" - "Torpedo" 2:1 (0:1)
"Zestaponi": Roin Kvaskhadze, Benashvili, Giorgi Oniani, Konakhidze, Eliava, Daushvili, Grigalashvili (Aftsiauri 53), Goriashvili (Aladashvili 52), Dvali, Dzari, Tsinamdzgvrishvili (Gelashvili 53).
Head coach: Giorgi Geguchadze
"Torpedo":Kvilitaia, Guruli, Farulava, Todua, Popkhadze, Chikviladze, Gigauri (Lomashvili 82), Nika Kvaskhadze (Tarkhnishvili 63), Giorgi Chkhetiani, Datunashvili, Kvaratskhelia (Khachiperadze 12).
Head coach: Nestor Mumladze
Goals: 0:1 Chikviladze(8), 1:1, 2:1 Daushvili(70, 90)
Yellow cards:Chikviladze(6), Datunaishvili(13), Khachiperadze(21), Todua(74), Kobakhidze(87), Lomashvili(89).
Referee: Malkahz Beuklishvili(Kvareli)