The Best Goals from Megreladze.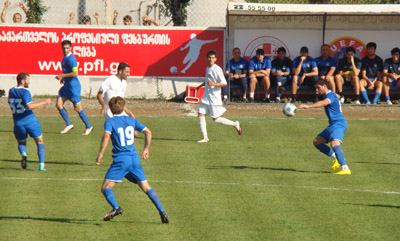 In Zugdidi Giorgi Megreladze scored 2 beautiful goals and helped "Baia" to win over one of the most important favorites. In the first half, after a corner kick, a 32-year-old forward scored a goal with head. In the second half he scored another goal. "Zestaponi" scored only one goal: at the last minutes Rati Tsinamdzgvrishvili minimized the difference.

"Baia" does not joke anymore: draw with "Dinamo" in the previous round. Now beating "Zestaponi". Elguja Kometiani was satisfied not only with the result but also with playing quality. He stated that they played better than their opponent.
Kometiani: "We had more chances to score a goal than the guests. That was not an accidental victory. The result was logical. Megreladze beautifully scored both goals and proved that he is a dangerous forward. Experience means a lot: Megreladze knows where he should meet the ball. The whole team played well".
Coach of "Zestaponi" told "Sports News" that they got advantage before the first goal.
Geguchadze: "The hosts deserved to win. "Baia" is a good team and I can only praise them. We scored the goal too late and did not have time to scored another one".
Championship has 4 teams with 7 points. "Dinamo" advanced with balls and is on the top of the schedule. Intrigue is increasing.
Georgian National Championship. Supreme League. V round.
11. 09. 16:00. Zugdidi. "Gulia Tutberidze".
Baia (Zugdidi) - Zestaponi 2:1 (1:0)
Baia: Somkhishvili, Kvekveskiri, Kveseishvili, Chichveishvili, Akobia, Roin Oniani, Dolidze (Sikharulia 58), Gogoberishvili, Tsurtsumia, Guguchia (Khidasheli 85), Megreladze (Ekhvaia 78).
Head coach: Elguja Kometiani.
Zestaponi: Roin Kvaskhvadze, Aladashvili, Giorgi Oniani, Khidesheli, Eliava, Daushvili, Pipia (Benashvili 57), Grigalashvili, Aptsiauri (Babunashvili 57), Dvali, Gelashvili (Tsinamdzgvrishvili 56).
Head coach: Gia Geguchadze.
Goals: 1:0, 2:0 Megreladze (23, 58), 2:1 Tsinamdzgvrishvili (87).
Yellow card: Guguchia, Daushvili, Aladashvili.
Referee: Tornike Gvantseladze.