"Zestaponi" on the First Place.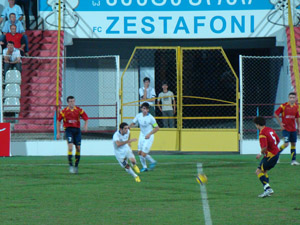 "Zestaponi" - "Olimpi" 1-0
In the 4th round of Georgian Football National Championship, host clubs won 3 matches from 5 and guest clubs did not score a goal in the 2nd half. "Samtredia" was preparing a sensation in Rustavi. After the first half "Samtredia" was winning over "Wit Georgia" with 2-ball difference. Jaba Lipartia ("Wit Georgia") could not score a penalty which was awarded after a committed foul against him. Jaba took penalty kick himself but goalkeeper of "Samtredia" caught it. This happened at 0:2. "Wit Georgia" did not seem to be in a good situation but after exchanging the goals, they scored 2 goals: first Vakhtang Kvaratskhelia scored double and equalized the score (he is leading the list of shooters with 3 goals), then Lipartia and Beka Zakradze scored goals. Lipartia added 2 assists to his goal, plus missed penalty and we can say, that Jaba was the most active player in this match.
"Samtredia" is at the bottom of the schedule. "Wit Georgia" is in the 2nd place but it is too early to talk about the schedule - only 1/12 of the championship is held.
In Zugdidi "Dinamo" held match against "Baia" without scoring a goal. Elguja Kometiani, head coach of "Baia", told "World Sport" that both of them could have scored goals but they had more real chances to do it.
"Megrelidze was kicking the ball from 1 m and it is strange how the goal was not scored. Guram Kashia prevented him from doing it...", - stated Kometiani, though he added, draw was logical result.
"Spartaki" scored 3 unanswered goals against "Sioni" which had not received goals before. So, it is early to say that club of Gocha Chikovani will be outsider. "Sioni" seldom loses with a big score.
And the main match of the round. "Zestaponi" beat champion "Olimpi" with one goal of Nika Gelashvili. At the 18th minute, after the assist of Irakli Dzaria Gelashvili was left one on one with goalkeeper and scored the goal. In spite of rough match, both teams had a chance to score a goal. "Olimpi" could have gained a point but in the end, "Zestaponi" won and is leading the schedule now.
29. 08. Zestaponi. "Davit Abashidze".
Zestaponi - Olimpi (Rustavi) 1:0 (0:0)
Zestaponi: Roin Kvaskhvadze, Aladashvili, Giorgi Oniani, Khidesheli, Eliava, Daushvili, Dzaria (Gorgiashvili 88), Babunashvili (Dvali 57), Aptsiauri, Grigalashvili, Gelashvili (Tsinamdzgvrishvili 72).
Head coach: Gia Geguchadze.
Olimpi: Bediashvili, Aleksandre Kvakhadze, Razmadze, Rekhviashvili, Ghonghadze, Getsadze, Bolkvadze (Ugulava 81), Japaridze, Dobrovolski (Kemoklidze 60), Chedia (Modebadze 46), Beriashvili.
Head coach: Temur Makharadze.
Goal: 1:0 Gelashvili (18).
Yellow card: Rekhviashvili, Bolkvadze.
Referee: D. Kharitonashvili.