With Leadership of Rati.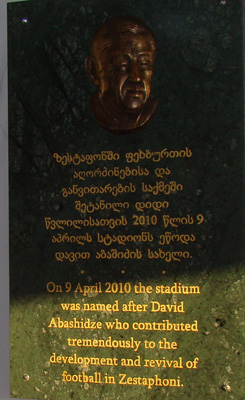 Memorial board on the Zestaponi stadium.
An hour before the start of the match, memorial board of David Abashidze was open on the Zestaponi stadium. David Abashidze was general director of "Zestaponi". He has worked for the club for a long time and died several months ago. Management of the club appreciated his merit - Zestaponi stadium is named after David Abashidze.

Before the start of the match, Georgian national anthem was sung and captains hoisted national flags. Gia Pirtskhalava, president of Georgian Professional Football League, awarded "Zestaponi" with bronze medals for the 3rd place gained in last season.

As for the match, team of Gia Geguchadze did not find it hard to win. "Zestaponi" scored only one goal in the first half: Nika Gelashvili passed the ball to Irakli Dzaria who shot it and scored the goal. In the second half Rati Tsinamdzgvrishvili appeared on the field and he needed 15 minutes to make double - when goalkeeper of "Spartaki" parried the ball, he shot it and scored. Then he shot the ball (passed by Kakha Aladashvili) with head and - 3:0. Shota Grigalashvili scored the last goal (passed by Gelashvili) 4:0.

Two rounds have not been held completely yet but Tsinamdzgvrishvili is the best shooter of the championship. No one has scored two goals, except him, in this season.
"Zestaponi" (Zestaponi) - "Spartaki" (Tskhinvali) 4:0 (1:0)
"Zestaponi": Roin Kvaskhvadze, Aladashvili, Giorgi Oniani, Gorgiashvili, Eliava, Daushvili, Dzaria (Pipia 78), Aptsiauri (Babunashvili 68), Grigalashvili, Gelashvili, Dvali (Tsinamdzgvrishvili 60).
Head coach: Gia Geguchadze.
"Spartaki": Grishikashvili, Chapodze, Pridolini, Tavberidze, Korsantia, Shota Kashia, Shonia (Chaladze 78), Mgeladze, Saralidze, Dekanoidze (Khachvani 68), Clovis (Mikheil Jishkariani 88).
Head coach: Gocha Chikovani.
Goals: 1:0 Dzaria (31), 2:0, 3:0 Tsinamdzgvrishvili (67, 79), 4:0 Grigalashvili (90).
Referee: J. Khorava.