Zestafoni (Georgia) - Karpaty (Lviv) 0–1.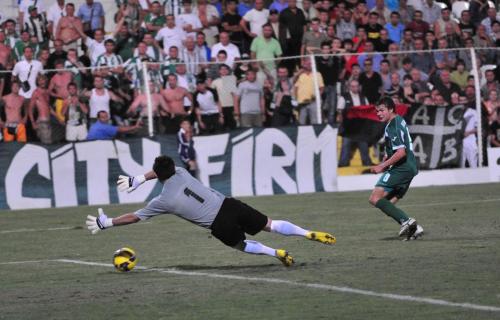 "Zestafoni" - "Karpaty" 0:1
Karpaty went to Zestafoni with 1-0 home victory under its belt. Certainly 1-0 is pretty slippery score, but Oleh Kononov's team showed its confidence from the first minutes. It was also felt that the players put their aggregate win under no doubt. First of all, Karpaty took care of its own goal safety. Basically, the hosts could not create anything upfront except for the few minor scoring chances. The best indication of Zestafoni attackers' helplessness was the substitution of team's striker Jaba Dvali.
Another forward of the home team Nikolos Gelashvili had slightly better game. By the way he celebrated his birthday on the same day, and wanted to make himself a present by scoring a goal. But all of his efforts remained fruitless. That led to Andriy Tlumak being deprived of an opportunity to demonstrate his goalkeeper skills.
All of our players deserve praise for keeping it close in defensive end. But both of the central defenders Nemanja Tubic and Ivan Milosevic need to be singled out. During first game, Serbs have made a couple of positional mistakes, which allowed fast Zestafoni attackers to create few dangerous scoring opportunities. This time Ivan and Nemanja have played nearly faultlessly leaving Dvali and Gelashvili with no chance to prove themselves. The only drawback is Tubic's yellow card, that won't allow him to participate in the next Europa League match.
As for Karpaty wingbacks, one should pay a tribute to the rookie of the team Danilo Avelar, who have replaced Ihor Oshchypko in the first half. Young Brazilian played reliably, and didn't spoil a meal as they say. It is very encouraging, since Oshchypko, who has seriously injured his knee isn't expected to be back any time soon.
The right defender Artem Fedetskyy has played in a style that is peculiar to him – reliable on defense and frequently joining the attacks. Although in some episodes green-whites #44 was making mistakes, it is worth mentioning that he started to gain his form gradually.
Defensive midfielder Samson Godwin was useful in destroying opponent's attacks as usual. One of the team veterans with his wise and confident play hardy allowed hosts' midfielders to create anything upfront.
Andriy Tkachuk has played way better than on couple of previous occasions. He came close to scoring on the 17th minute after a header from Oshchypko delivery. The shot went over the bar even though Roin Kvaskhvadze could do nothing except for the following it by his eyes.
Tkachuk wasted his chance to burry Zestafoni hopes. It wasn't the case with Ihor Khudobyak. Even though he didn't score himself in added-on time, he created a golden opportunity for his partner to do so. After intercepting the ball and playing give-and-go with Batista, #16 emerged one-on-one with Zestafoni goalkeeper. He could take a shot himself but instead decided to pass the ball further to the right to unmarked Kozhanov. Denys barely had to touch the ball to put it in the net – 0-1 ...
05/08/2010 "Zestafoni" - "Karpaty" - 0-1