Self-confidence and Mastership - trump of "Zestafoni" against Ukrainians.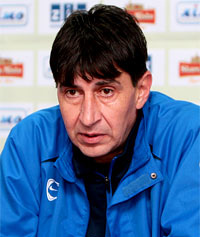 Among members of the national football championship, now it is time for football club "Zestafoni", bronze prize-winner of the previous season. The club has begun preparing for the new football season since the first days of June. With the results of the 21st championship, "Zestafoni" won a right to play in UEFA Euroleague from the beginning round. Voting was held in Swiss Nion on June 21 and San Marino "Faeton" became the first competitor of "Zestafoni".

Before playing in Euro tournament, footballers trained by Gia Geguchadze had a 2-week Austrian preparing meeting since July 10. Thay stayed at "Pillerseehof" hotel and had 4 test matches.
On June 12, "Zestafoni" lost the match 1:2 (Nika Gelashvili scored a goal) with Plzen "Victoria" (Czech Republic). On June 15, Georgians played with Russian champions Sankt-Petersburg "Zenit". In spite of competitor's attempt the match finished without a goal draw - 0:0. On June 19, "Zestafoni" had a match with Salzburg "Red Bull" (trained by Dutchman Huub Stevens), which was 6 times winner of Austrian championship and current champion of the country and won with score 3:2 (Gelashvili - 2 goals, Babunashvili - 1 goal). As for the last sparring, "Zestafoni" beat Moscow "Dinamo" 3:1 thanks to hat trick of Jaba Dvali.
Now briefly about those changes which were done in "Zestafoni" since May. Levan Korghalidze and Davit Gamezardashvili returned to Europe again. As for transfers, Gia Geguchadze let the coach make only 3 transfers. A 29-year old Shota Babunashvili who has just returned from Israel, a 25-year old forward Gogi Pipia who played in Zugdidi "Baia" and a 26-year old defender Kakha Aladashvili who played in Mahachkala "Anji" connected their future to "Zestafoni" for 2 years.
Forward Rati Tsinamdzgvrishvili cannot train with club yet. We remind you, that last time he appeared on the stadium was last season on May 5. On that day "Zestafoni" hosted Tbilisi "Vit Georgia". Because of shoulder injury Rati had to leave the game at 43rd minute of it. Later, he was operated on shoulder in the capital of Belarus, Minsk and he is having a rehabilitation course now.
"Zestafoni" held 5 matches of Euroleague in July. They easily beat "Faetano" (5:0, 0:0). Slovakian "Dukla" was their competitor on the second qualification round which they beat 3:0 in Georgia and lost 0:1 in Bansca Bistritsa. "Zestafoni" was beat with the same score in the next Euroleague round by "Karpat" in Lvov. As for the responsive match with Ukraine it will be held in Zestaphoni on August 5. The basic subject of our interview with main coach Gia Geguchadze was about preparing for this match.

- Are you satisfied with the preparation for championship?
- It would have been better for us if the championship had started earlier. I think, preparation for Euro tournament would have been more dynamically.
- Did you apply to the appropriate body with suggestion in Georgia?
- No, we did not but I think, we should take this fact into consideration in future. The fact that Lvov "Karpaty" plays in its home championship it is a great playing practice fot it.
- Recent years "Zestafoni" was considered as a real candidate of championship but you did not have enough scores. How do you think, who has more chance to become champion in this new season, you or your competitors?
- "Zestafoni" still has a claim on the championship and we really have a desire to win. There are more unconducive facts than conducive. First of all we should seek problems in ourselves and responsibility for the championship would be more different than we had before.
I say in advance that it would be better if the pitches were paid more attention. I think everyone will agree with me that it is time not to have problems about pitches in our country.
- Which club do you consider as your main competitor?
- I think, traditional clubs will be main competitors as usual - Tbilisi "Dinamo", "Wit Georgia". I have not watched the games but I heard that Zugdidi "Baia" is stronger now, also Kutaisi "Torpedo" in spite of it returned to supreme league this year. I think it will be better for everyone if many good clubs will play in the championship.
- How many numbers will you give to "Zestafoni" from a 10-number system?
- I will give 7. We are still training and we would have 8 or even 9 number if we played several games in the championship.
- What is your chances with Lvov "Karpaty" you are playing with next Thursday.
- We have a desire to beat Ukrainians and we can do it. The main thing is to be mobilized and play our football.
- Maybe we can say about "Karpaty" that "it does not rain so hard as it thunders". "Zestafoni" looked better in the second half in the match with "Karpaty" in Ukraine.
- I think, my footballers had better skills than "Karpaty". I want them to show it on the pitch. Even if you are a great psychologist it is difficult to persuade a footballer that he can beat the competitor if he does not believe it. Thanks to self-confidence "Zestafoni" played better in Lvov. I do not mean that "Karpaty" is a weak team. It is a really good team and has good footballers. But we should take into consideration that we also have good footballers - and they are even better when they believe in themselves.