Karpaty (Lviv) 1–0 Zestafoni (Georgia).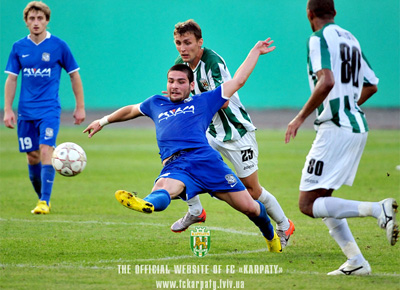 In the first leg of Europa League 3rd Qualifying round Karpaty hosted Geoargian club Zestafoni at the Ukrayina. A precise header from Ihor Khudobyak at the beginning of the game has brought narrow 1-0 victory to Ukrainian team. But is it enough to advance to playoff stage will only become known in a week, after the teams played a return leg in Georgia.

Probably, there will be a lot of those who'd like to criticize Karpaty performance in the match. And in a way they are right. Since the hosts didn't look like themselves today. Most amazingly the team didn't get up to its normal speed for the whole 90 minutes. But when Karpaty was lifting the pace in some episodes the difference in the class of the teams became immediately apparent. Unfortunately those episodes were a rarity.

It took teams five minutes to familiarize themselves with each other. Normaly, the home team tries to put guests under pressure and score a quick goal. Today it was road team which had most of the possession during first few minutes. The guests were also the first to take a shot on goal. But despite an unusual slow start Karpaty managed to score a quick goal. After a lengthy attack on the right flank, Artem Fedetskyy got precise aerial delivery to Ihor Khudobyak, who in his turn, having got rid of Georgi Khidisheli, took a header which caught Roini Kvaskhvadze flat footed – 1-0.

Despite opening the scoring early Karpaty players didn't settle in and were unable to calm their nerves. Instead they've given up the game initiative. It looked as our team was hypnotized by the opponent. After scoring a quick goal the green and whites were unable to create any further opportunities during first half. But the guests hardly created anything upfront themselves. It is proved by the fact that Karpaty goalkeeper Andriy Tlumak only touched the ball twice during first 45 minutes.

During half-time break Karpaty fans expressed their hopes that the Lions will play more actively in the second half and tear the opponent's defense apart, as was the case in Reykjavik. But it never materialized. It looked as Karpaty players didn't recover fully after Sunday's game against Metalurh Zaporizhya. It is also worth of mentioning that Kononov's team has played 6 games in 20 days that gone by from the season start.

It's not that Karpaty lacked a will to fight for a victory. In the end of the day the team did win. In the meantime it is well-known that elimination games present some different requirements than Premier League matches do. It's not always enough just to earn a win. Especially when you looking at a prospect of return game on the road. That's exactly the case with Karpaty winning just 1-0. Though, the team had a decent chance to double its lead on the very last minute.

William Batista got inside the penalty area with defender chasing him closely. Brazilian managed to take a hard shot which was put aside by Roini Kvaskhvadze. But Ihor Khudobyak was the first man on the ball as he took another shot with an empty net looming and a prospect of 2-0 scoreline. Zaal Eliava somehow managed to clear the ball from the goal line.

It is clear that our boys won't find it easy in Zestafoni. Especially since Georgians will have the whole week to recover and get themselves ready for the return leg. As for Karpaty, the team is off for Luhansk this Saturday to play a Premier League match. So the green and whites need to remain fully concentrated and show off their fighting spirit in order to earn maximum points in domestic league as well as to get through to the playoffs and later to the group stage of Europa League.

29/07/2010 "Karpaty" - "Zestafoni" - 1-0
Photo by © FC Karpaty