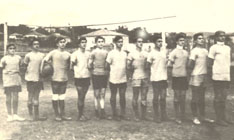 Football Team of Zestafoni, 1923
From the beginning of the 20th century football was given rise in Georgia. In 1906 the first football fan club was founded in Tbilisi. This happened by the patronage of Mr. Lgotac. He was the one who on the 23rd of February 1907 established the first Football Club in Georgia. The Club, called "Comet", had its own regulations, funds, uniforms and a stadium.
Though it should be mentioned, that football was played far earlier in Georgia, mainly in the sea-side cities, first of all in Poti, where local groups competed in "passing/tossing a ball" with British mariners. That's why Poti is considered to be a cradle of Georgian football.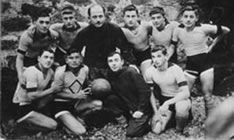 "Metallurgi", 1937
As to Zestafoni, in out city, football has been played since the beginning of the 20th century. First football players from Zestafoni were students of the local gymnasium (currently secondary school № 1). According to our data, Zestafoni football team held its first match with one of the clubs of western Georgia (according to different sources Senaki or Ozurgeti) in 1918, during a celebration organized to commemorate Independence of Georgia. First international match held in Zestafoni was also during the independence period, in 1920. Zestafoni team competed with a group of British Occupational Forces and defeated it by 2-1.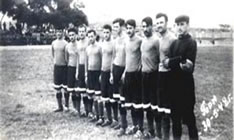 "Metallurgi", 1948
In the 20's Zestafoni football players held various matches with teams of neighboring cities.
In 1927 first Football Championship in held in Georgia. First Champion of Georgia is Batumi Team.
In 30's two football teams are established in Zestafoni – "Mertskhali" (Swallow) and "Locomotive", that often take part in local and regional tournaments.
A truly new era in the history of Zestafoni football starts form the second half of the 30's, after ametallurgical giant, Zestafoni Ferro-Alloy Plant" has been put into exploitation (actually even now plant and football develop side by side). It was by the initiative of professional committee of the plant, that a meeting of workers of the physical culture was held on May 10, 1937. A decision of establishing a football team was made on the meeting. The team was called "Metallurgi"
Georgian Cups Winner -
"Metallurgi
", 1962.
In August 1938, "Metallurgi" participates in the union tournament held by sport-society "metallurgist" in Minsk, where the team defeats Moscow "Electrostal", Staliningrad "Krasni Oktiabr", Leningrad "Metallurg" teams and loses in final to "Serp i Molot". In 1938 Zestafoni "Metallurgi" is engaged in Georgian Championship, where it participates regularly until 1989.
In various years "Metallurgi" was: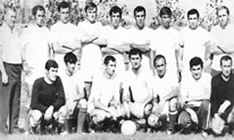 Vice-Champion of Georgia "Metallurgi " - 1970
Silver medalist of Georgian Championship – In 1967, 1970, 1982 years;
Finalist of Georgian Cup – In 1966, 1967, 1971 years;
Winner of Georgian Cup – In 1962.
Various football players from "Metallurgi" played for leading Georgian Football Clubs on various degrees, for example:
Tbilisi "Locomotive" – Guram Shavdia, Zaur Chubinidze;
Kutaisi "Torpedo" – Guram Nishnianidze;
Tbilisi "Dinamo" – Giorgi (Jora) Chumburidze, Guram Kochiashvili, Dodik Khundadze, Guram Petriashvili, Kartlos Tsintsadze.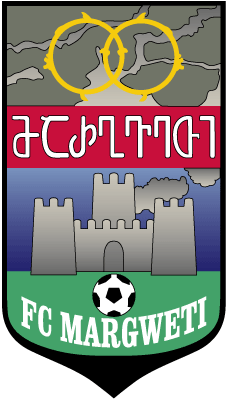 FC "Margveti"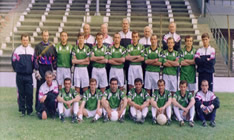 Vice-Champion of Georgia -1996, FC "MARGVETI"
In 1990 Georgian Football Federation leaves the Soviet Union's Football Federation. An Independent Georgian Football Federation is formed, that shortly after becomes a member of FIFA and UEFA, leading Georgian Clubs are engaged in National Championships
In 1990 a new Football Club is founded in Zestafoni – FC "Margveti", that holds the position of "Metallurgi" in I group in the Georgian National Championship and from the very first year becomes a member of the highest league.

FC "Metallurgi"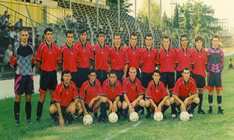 "Metalurgi", 2000
In 1993 and 1996 years "Margveti" is the semi-finalist of the Georgian National Cup. In 1996 "Margveti" is the Vice-Champion of Georgia and participates in UEFA Cup Qualification Round. Unfortunately, due to financial problems, at the end of the 20-th century the club broke up.
In total, in the years of 1991-1998 FC "Margveti" participated in 8 National Championships, held 247 matches, won 98 of them, draw 43, lost – 106, difference in scores 397-443.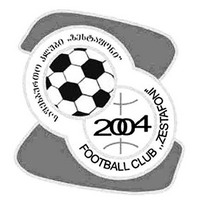 In 1999-2004 FC "Metallurgi" revived, and also played in the highest league in 2001-2003. Unfortunately, it shared the same fortune as "Margveti".
On June 18, 2004 new Football Club – "Zestafoni" was established. It is a worthy follower of valuable traditions of Zestafoni football and from the very beginning it deserved great sympathy from fans.
In 2007-2008 and 2009-2010 FC "Zestafoni" was the Bronze medal holder of the Georgian National Championship. On May, 16, 2008 Football Club "Zestafoni" won the first title in their history - the Georgian National Cup. In 2010-2011 and 2011-2012 FC "Zestafoni" is the Champion of Georgia. In 2011 and 2012 Football Club "Zestafoni" won the Super Cup of Georgia.
Georgian Cup's Winners -

2008

The Champions of Georgia - 2011

Georgian Super Cup's Winners - 2011
| | | |
| --- | --- | --- |
| | | |
| The Champions of Georgia - 2012 | Georgian Super Cup's Winners - 2012 | Vice-Champions of Georgia - 2014 |